VERY RARE: J. B. MOORE United States Licensed Indian Trader Collection of Catalogs Published at Crystal Trading Post 1903-1911 [SOLD]
---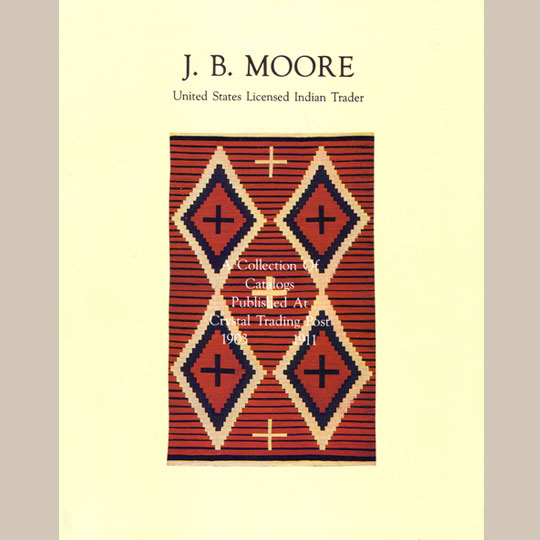 + Add to my watchlist

Forward to Friend
Alexander Anthony
Subject: Traders and Trading Posts
Item # 978-0936755052
Date Published: Originally 1903-1911; Avanyu Publishing (First edition, softcover, 1987)
Size: 114 pages, ex-library copy but in very good condition

SOLD
Very Rare: J. B. MOORE United States Licensed Indian Trader
Collection of Catalogs Published at Crystal Trading Post 1903-1911
The Catalogues of Fine Navajo Blankets, Rugs, Ceremonial Baskets, Silverware, Jewelry and Curios: Originally Published Between 1903 and 1911
By J. B. Moore, Indian Trader
Publisher: Avanyu Publishing, Albuquerque
First edition, softcover, 1987, 114 pages. Like New condition.
---
From the Preface:
Shortly after we published The Navajo (J. B. Moore's 1911 catalog), an astute book dealer from Santa Fe, NM , called and commented on the fact that the color plates of the rugs started with number XIV. He then asked if we had plans to publish the earlier catalog with illustrations I thru XIII.
At that time we had no intention of doing so, but his telephone call started us on a search for a copy of an earlier catalog. Several months, many telephone calls, several letters, records searches through the New Mexico Archives and the National Archives, and inquires to the Bureau of Indian Affairs and the Navajo Tribal Headquarters turned up no catalog.
A lead from Dr. Joe Ben Wheat sent us to Dr. Andrew Hunter Whiteford, whom we found in Santa Fe, taking us back to where this had all stared months earlier.
On an early June morning in Santa Fe at Dr. Whiteford's home, our search ended when he reached for a book from his bookshelf and extracted a manila envelope from its protected place with the book.
As he emptied the contents of the envelope on the table around which we were anxiously waiting, we were surprised to find that there was not just one catalog but also some lose-leaf sheets depicting Navajo rugs from Crystal Trading Post.
Thanks to Dr. Whiteford, we are pleased to offer a compilation of all the known mail order catalogs published by John B. Moore during his stay at Crystal Trading Post. We are particularly pleased to present the catalogs and the seven extra plates which have never before been reprinted in color. We think we have here the entire published products of Moore.
We hope this new printing please our readers as much as it does us.
(Authors)
- J. Brent Ricks
Alexander Anthony
Subject: Traders and Trading Posts
Item # 978-0936755052
Date Published: Originally 1903-1911; Avanyu Publishing (First edition, softcover, 1987)
Size: 114 pages, ex-library copy but in very good condition

SOLD
---
Publisher:
221 Canyon Road
Santa Fe, NM
505-955-0550
info@adobegallery.com
http://avanyupublishing.com
---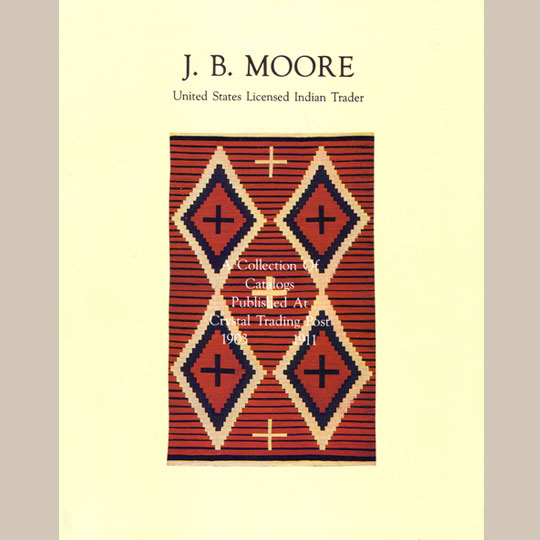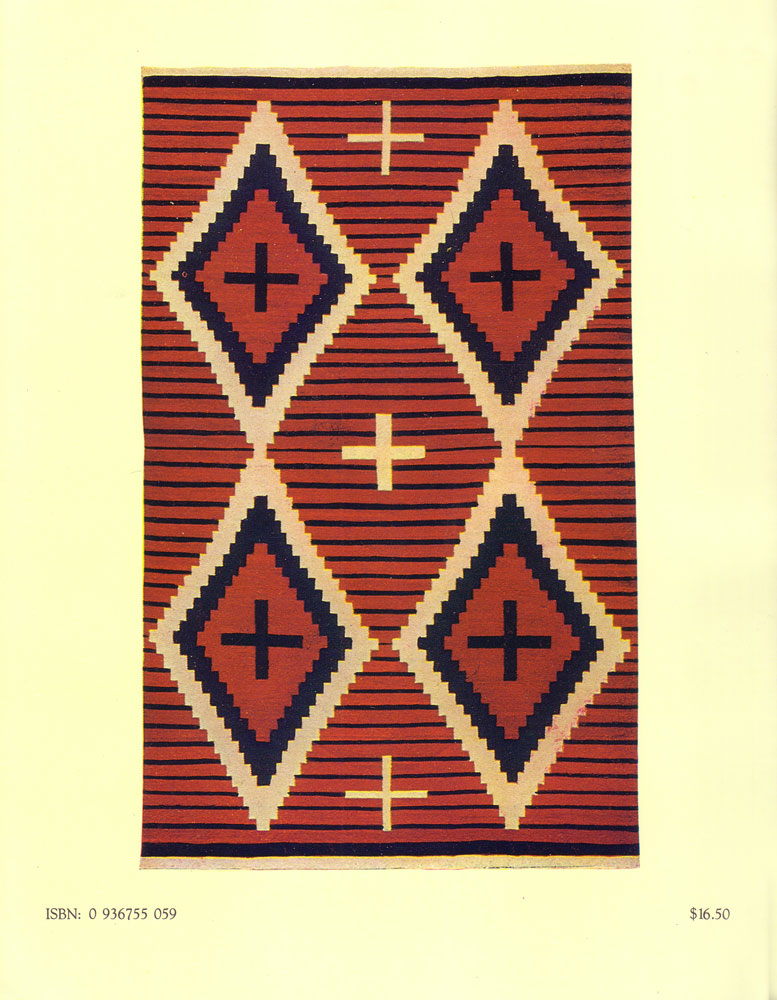 Click on image to view larger.
---