---
Large Black Storage Jar, circa 1900 [SOLD]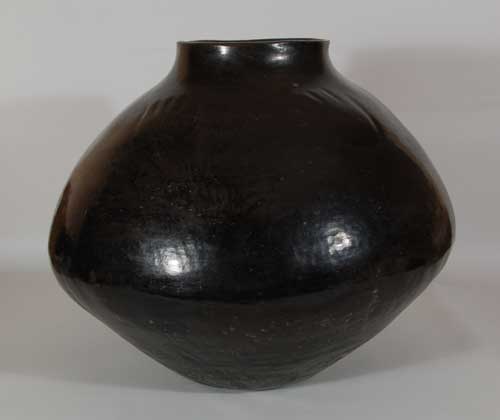 + Add to my watchlist Forward to Friend
Before the turn of the 20th century, Santa Clara storage jars exhibited a vessel shape different from those developed subsequently. These early storage jars generally displayed the widest measurement to be below the mid section of the jar. Early 1800s jars displayed the widest measurement very near the bottom of the vessel. As mid- to late-20th century jars developed, the widest diameter rose to just below the midsection, as exhibited in this jar.
This jar has been attributed to the hands of Sara Fina Tafoya (Margaret Tafoya's mother) by her granddaughter, Toni Roller. Her letter of authentication appears below. In addition to Toni's attribution, there are several features that corroborate the authentication.
Firstly, the vessel walls exhibit vertical depressions as if they were scraped in an up-and-down manner. The black slip exhibits horizontal striations as if the polishing was done in a side-to-side manner. Sara Fina scraped her vessels with corncobs to smooth the vessel wall before applying slip. She is known to have detested the use of commercial sandpaper. Her earlier works show evidence of this method. This vessel appears to have been scraped in the up-and-down manner and stone polished in a horizontal manner.
Secondly, the entire vessel is slipped and stone polished and fired to a beautiful dark black. The high degree of polish is remarkable considering the jar was probably not first sanded before polishing. The bottom is flat as are the bottoms of all storage jars. Only ollas or water jars feature concave bottoms.
Thirdly, there were few potters in the late 1800s and early 1900s at Santa Clara Pueblo who were as technically proficient as Sara Fina Tafoya. This jar was extremely well constructed and exhibits very thin walls, is well polished, and has bear paws impressed into the vessel wall-all well known traits of the work of Sara Fina. Interestingly, the bear paws are not in a straight up-and-down manner, but are rotated slightly counterclockwise. Toni Roller said that she has seen a few early Sara Fina jars with bear paws in this position.
COMMENTS: Some experts have contended that smothering pottery during the firing process creates a carbon smoke that penetrates the pottery, turning it black. Even though several books describing black pueblo pottery attribute the color change to carbon, the reduction of iron oxide is the correct mechanism. Ceramicists, describing ancient styles of Old World pottery, state that iron impurities in clay form red oxide at red heat, but if air is lacking during firing, iron impurities in clay form black magnetite.
AUTHENTICATION: Sara Fina Tafoya's granddaughter, Toni Roller, provided the following letter of authentication. An original signed copy will be provided to the purchaser of the jar:
I, Toni Roller, of Santa Clara Pueblo, identified a large Traditional black storage jar with 3 Large Bear Paw designs and 2 smaller Bear Paw designs as a pottery jar made by my grandmother, Sarafina Tafoya, of Santa Clara Pueblo. She might have made this pottery for a special occasion because of the two different Bear Paw design sizes and the flat base which is unusual for her. Size of this large jar is 16" dia. x 13½" high. This unsigned storage jar is in good condition and is shown in the attached photo.
Signed:
Toni Roller
Provenance: This item was presented in the Indian Pueblo Cultural Center's special exhibit TIMELESS BEAUTY in Albuquerque, New Mexico, January-August 2008. This exhibition celebrated the achievements and impact made by some of the most renowned Pueblo women artists on the preservation, exposure, and development of the indigenous and contemporary art forms of Pueblo people. Curated by the IPCC in collaboration with Santa Fe-based Adobe Gallery and the School for Advanced Research, TIMELESS BEAUTY showcased a collaborative collection of artwork created by these influential women.
Sara Fina Tafoya, Santa Clara Pueblo Potter
Category: Historic
Medium: Native Clay
Size: 13-1/2" tall x 16" diameter
Item # C2715

SOLD
---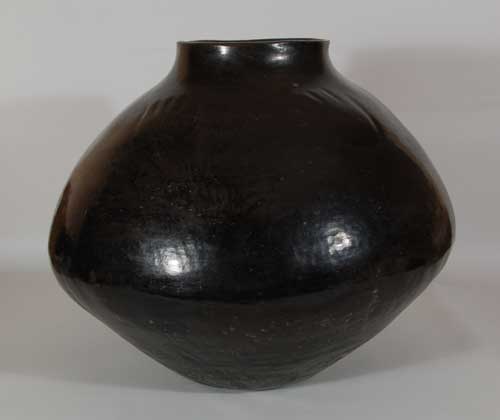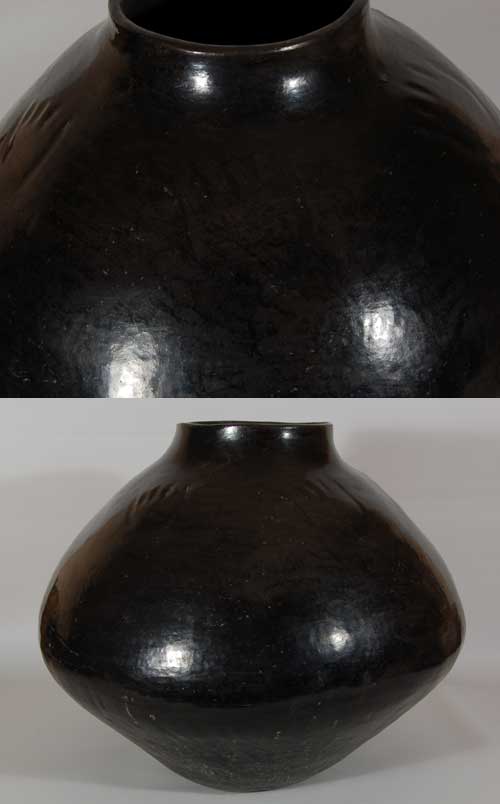 Click on image to view larger.
---