---
RARE Carved Wood Figure by Diné of the Navajo Nation Artist Charlie Willeto [SALE PENDING JK]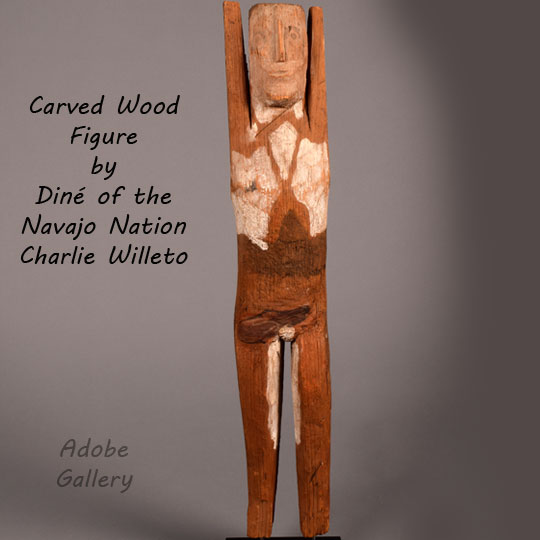 + Add to my watchlist

Forward to Friend
This wood carving was made by Charlie Willeto, an influential Diné of the Navajo Nation folk artist. Willeto's works remain incredibly popular with collectors. We are always pleased to be able to handle one, as it is fascinating to study the similarities and differences between each new arrival and our previous offerings. While the details vary, the fundamental character of each piece is similar, or appealing in a similar manner. Willeto was able to execute his vision with remarkable consistency while ensuring that each piece offered something different than the last.
This tall, slender figure is a striking example of Willeto's work. As far as color goes, it's a bit more restrained than the majority of those which we have handled, and that relative simplicity is a great strength. The form itself is wonderful, and the white, black, and earthy brown tones elevate its effects. A pair of wide eyes in wispy black are barely visible, which also feels appropriate for the piece. The previous owner of this piece described it as "elemental," and we can't think of a better descriptor. Later pieces were often painted by the artist's wife Elizabeth, using more color and detail. While we appreciate those later efforts, we'd suggest that this early-career work is a particularly strong piece.

In Collective Willeto: The Visionary Carvings of a Navajo Artist, Lee Kogan describes Willeto as one of the most significant self-taught artists of the twentieth century: "Charlie Willeto's carvings share with the work of 20th century self-taught artist-superstars William Edmondson, Bill Traylor, and Martin Ramirez a brilliant economy of expression and iconic power, vitality and energy, a timelessness, and inspiration drawn from deep cultural roots simultaneously personal and universal. Like these artists, Willeto also developed a vocabulary of form and had an extraordinary command of his media."
The carving is mounted on a black stand that was handmade for this figure.
Charlie Willeto (1897-1964) was a Diné of the Navajo Nation artist who was unrecognized during his lifetime but has, in recent years, received a great deal of acclaim for his folk-art carvings. Willeto's father, Pablo Walito, was a Diné medicine man; his mother Adzaan Tsosie "Slender Woman" was a medicine woman. Willeto himself followed into his parents' profession and married a woman who was born into the traditional Diné healing arts. At the time of Charlie and Elizabeth's arranged marriage, he was almost fifty and she was 18. They would go on to have six children together, many of whom would become artists themselves. Willeto was a Yei-bi-chei dancer, and his earliest known carvings were what he referred to as "replicas" of the Yei-bi-cheis. His elders discouraged him from continuing to make his "replicas'', and he moved in a different but similarly controversial direction.
In 1961, Willeto began creating the carvings for which he is celebrated today. These works—his early pieces, in particular—bore a resemblance to the "illness" or "healing" dolls made for use in Diné ceremonial functions. They always featured some sort of deliberate aberration, though, as the re-creation of these dolls was frowned upon by the Diné. Humans, anthropomorphic figures, and all manner of animals were Willeto's preferred subjects. He painted his carvings with house paint, chalk, crayons, and his wife's weaving dyes. The carvings ranged in size from a few inches tall to nearly life-size, with the majority standing between one and three feet. Willeto bartered his carvings for provisions, with trader Jim Mauzy. Mauzy then sold and traded Willeto's carvings to other dealers and collectors. Willeto is believed to have completed about 400 carvings in total. Today, his works are included in many prominent public and private collections, including the Smithsonian and the Museum of International Folk Art.
---
Note: when we say Diné, as opposed to Navaho or Navajo, we are referring to the people and not the government. Since 1969, their government refers to itself as the Navajo Nation.
Condition: excellent condition
Provenance: this RARE Carved Wood Figure by Diné of the Navajo Nation Charlie Willeto is from a private Georgia collection
Recommended Reading: COLLECTIVE WILLETO The Visionary Carvings of a Navajo Artist by Shonto Begay, Walter Hopps, Lee Kogan, Greg LaChapelle, and John and Stephanie Smither
Charlie Willeto, Diné of the Navajo Nation Artist
Category: Other Items
Origin: Diné of the Navajo Nation
Medium: wood, paint
Size: 3-¾" width;
22-⅞" height including specially made stand
Item # C4617A
Price:

$4750
---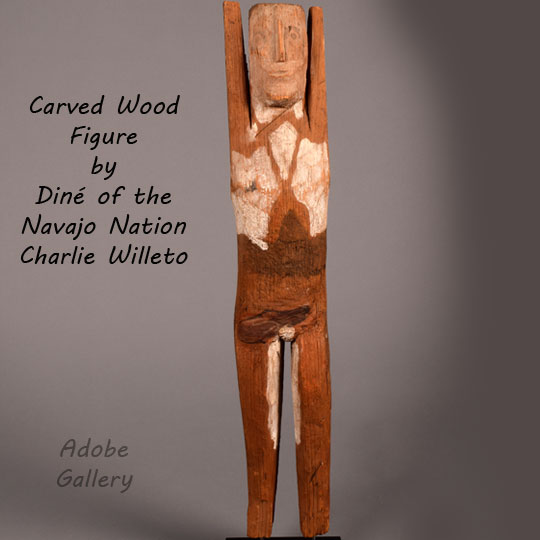 Click on image to view larger.
---
Adobe Gallery Recommended Reading