---
Cottonwood Root Hopi Avachhoya (Corn) Katsina Doll [SOLD]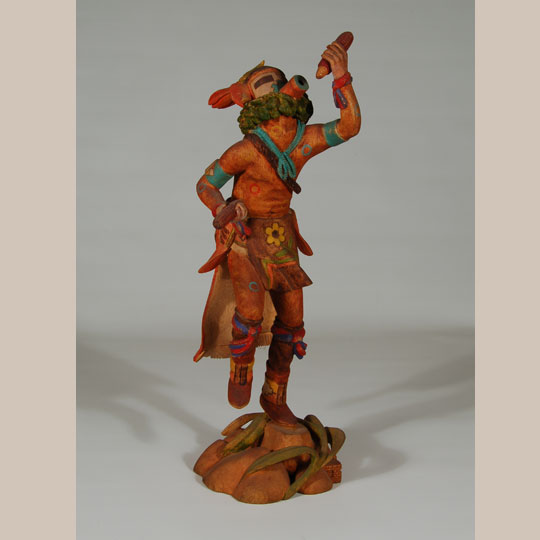 + Add to my watchlist Forward to Friend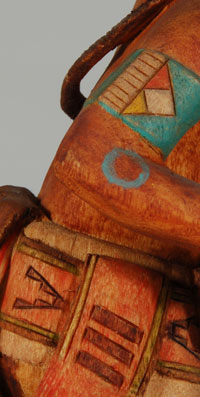 When I was actively purchasing katsina dolls from the Honyouti brothers in the 1980s and 1990s, Brian Honyouti was seriously involved in running a school for the children of his village of Bacavi. He founded the school, was the teacher, and was the principal. He funded the school from funds received from the sale of his carvings. He was a strong advocate of education. He, himself, had obtained a bachelor's degree in anthropology from the University of Arizona in 1971.
Honyouti had started carving katsina dolls in the 1960s after graduating from high school. He helped his dad paint his dolls and learned to carve his own at that time. According to author Helga Teiwes, he was the first carver to use wood preservers and wood sealers as an undercoat for the carvings. She said he was also the first to substitute wood preserver for paint and to use oil paints in lieu of acrylic paints. These innovations provide a mellow tone to his carvings rather than the shiny gloss of acrylics.
According to Barton Wright, "Avachhoya or Qá-ö is the Spotted Corn Kachina who appears in the Pamuya in the regular Kachina dances. Generally this Corn Kachina dances with such a lively step that only the boys or young men will take the part. They do not sing and are always accompanied by a drummer and chorus, usually Koyemsi. Sometimes two of these kachinas will dance on the plaza by the side of the Niman Kachinas. Holding nothing in their hands, they make motions and signs describing such figures as clouds or cornstalks or whatever is being sung about at the time. Probably no other kachina name has quite so many different forms grouped together. It is apparently a generic term, at least nowadays, that covers a multitude of dancers whose function is to aid in the production of corn."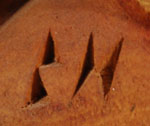 This carving is from a single piece of cottonwood root and was painted with oil base stains. The pedestal is part of the original carving. It is signed on the back of the pedestal with the initials BH.
Condition: original condition
Reference: Kachinas: a Hopi Artist's Documentary by Barton Wright with original paintings by Cliff Bahnimptewa. This book is currently not available from Adobe Gallery.
Provenance: Purchased by Adobe Gallery from the artist in 1987 at which time we sold it to a client in New York from whom we have now received it back for re-sale.
Brian Honyouti, Hopi Pueblo Carver
---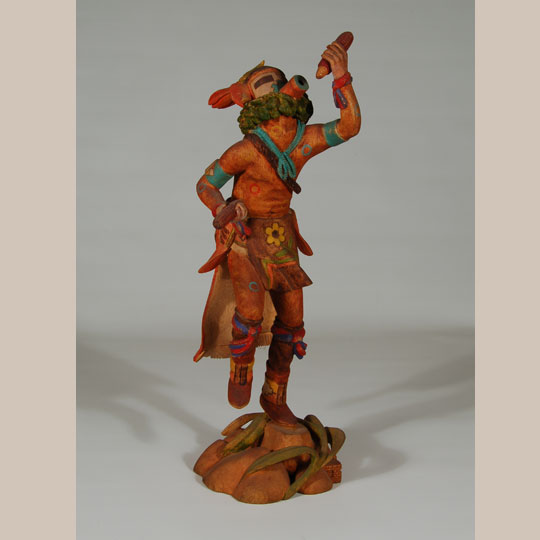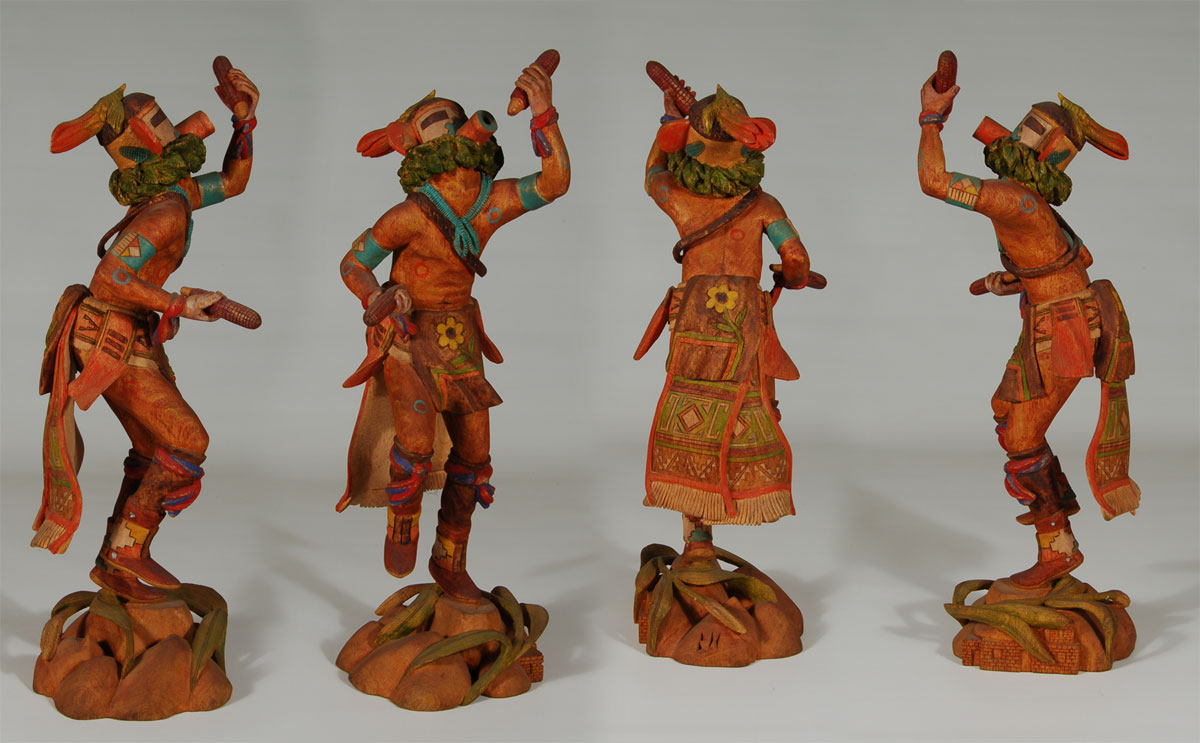 Click on image to view larger.
---
Adobe Gallery Recommended Reading

KACHINAS A Hopi Artist's Documentary [SOLD]
by Barton Wright