---
Early Painting of Diné Men and Horses [SOLD]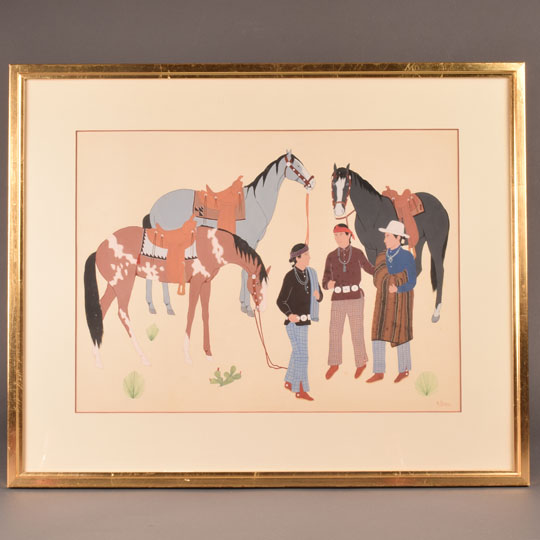 + Add to my watchlist Forward to Friend
Diné painter Harrison Begay (1917-2012) was an incredibly prolific creator of the "flat style" paintings that he helped popularize. As his life and career progressed and his technical skills developed, he continued working in this style, refining it and perfecting it. He was enormously successful with these images, and so it makes sense that he chose to perfect the style rather than evolve in new directions. He loved what he did, he did it well, and he was able to earn a good living doing it. Clara Lee Tanner's Southwest Indian Painting: A Changing Art provides a nice quote regarding Begay's love for his life and vocation: "Begay has always enjoyed painting—a fact revealed in his words, his pictures, and his moods when working. And, with a twinkle in his eye and never-failing Navajo humor, he says, 'it is easier to do than anything else!'"
This untitled watercolor painting by Harrison Begay is a rare treat. This an early piece, completed long before he perfected his craft and settled on the style and subjects that he would paint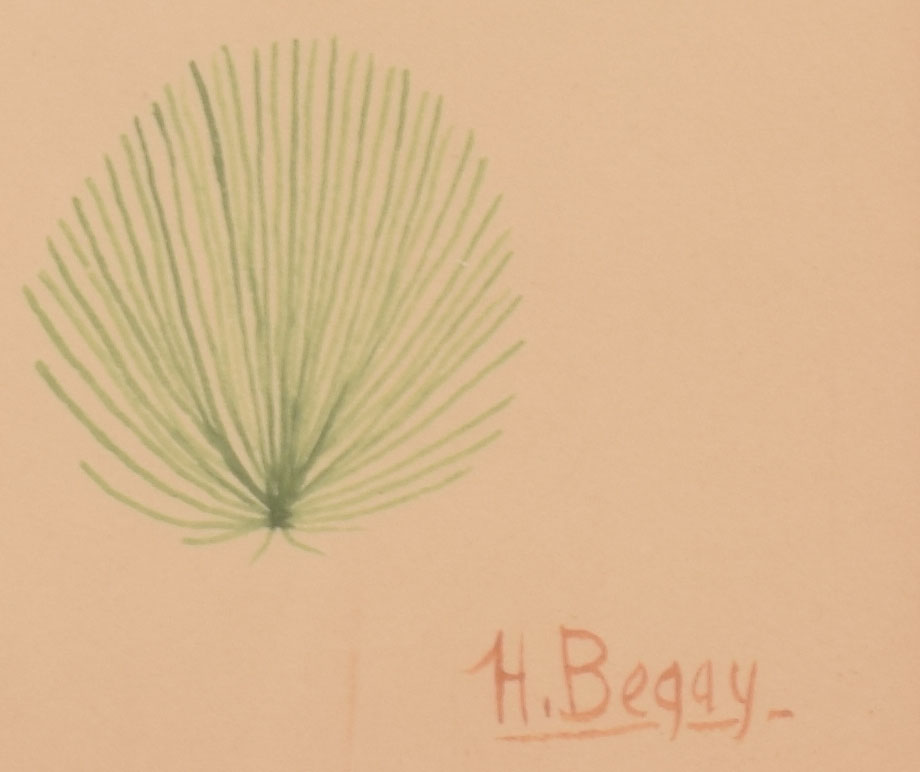 repeatedly throughout his long career. This painting has the grace and sensitivity of his later works, which suggests that Begay was a naturally gifted artist. His subjects here—Diné men and horses—are exactly what collectors expect of Begay, but the manner in which they are executed is unique and exciting. Two of the horses and one of the men are seen in profile, as is expected of the artist, but the other three figures are seen head-on. Their faces have an interesting appeal—they're uncomplicated but accurate, less refined than those seen in Begay's later works. There is no background, which, again, is typical of early Native painters. Begay strayed from the norm by arranging his subjects three-dimensionally, rather than on a flat plane. He used a cool, earthy, true-to-life color palette, rather than the warm, bright pastels that he favored for most of his career. There is no symbolic or spiritual imagery, nor is there any sort of creative embellishment. This is a snapshot of daily life on the Navajo reservation. With all due respect to its historical significance and considerable technical merits, this painting's authenticity is its most striking characteristic.

Harrison Begay was a world-renowned Diné (Navajo) painter who is generally regarded as one of the most successful and influential early Native American painters. Begay studied under Dorothy Dunn at the Santa Fe Indian School in the 1930s, and then attended colleges in North Carolina and Arizona. From 1942 to 1945, he served in the US Army Signal Corps. In 1947, Begay returned to the Navajo reservation, where he enjoyed a long and productive career as a painter. He is known to have continued painting into his 90s. Begay passed away in 2012.

Condition: Good condition for its age, with small stains scattered around the area where the men are gathered
Provenance: Patricia Janis Broder Collection
Recommended Reading: Clara Lee Tanner's Southwest Indian Painting: A Changing Art
Relative Links: Diné - Navajo, Harrison Begay, Dorothy Dunn, Native American Paintings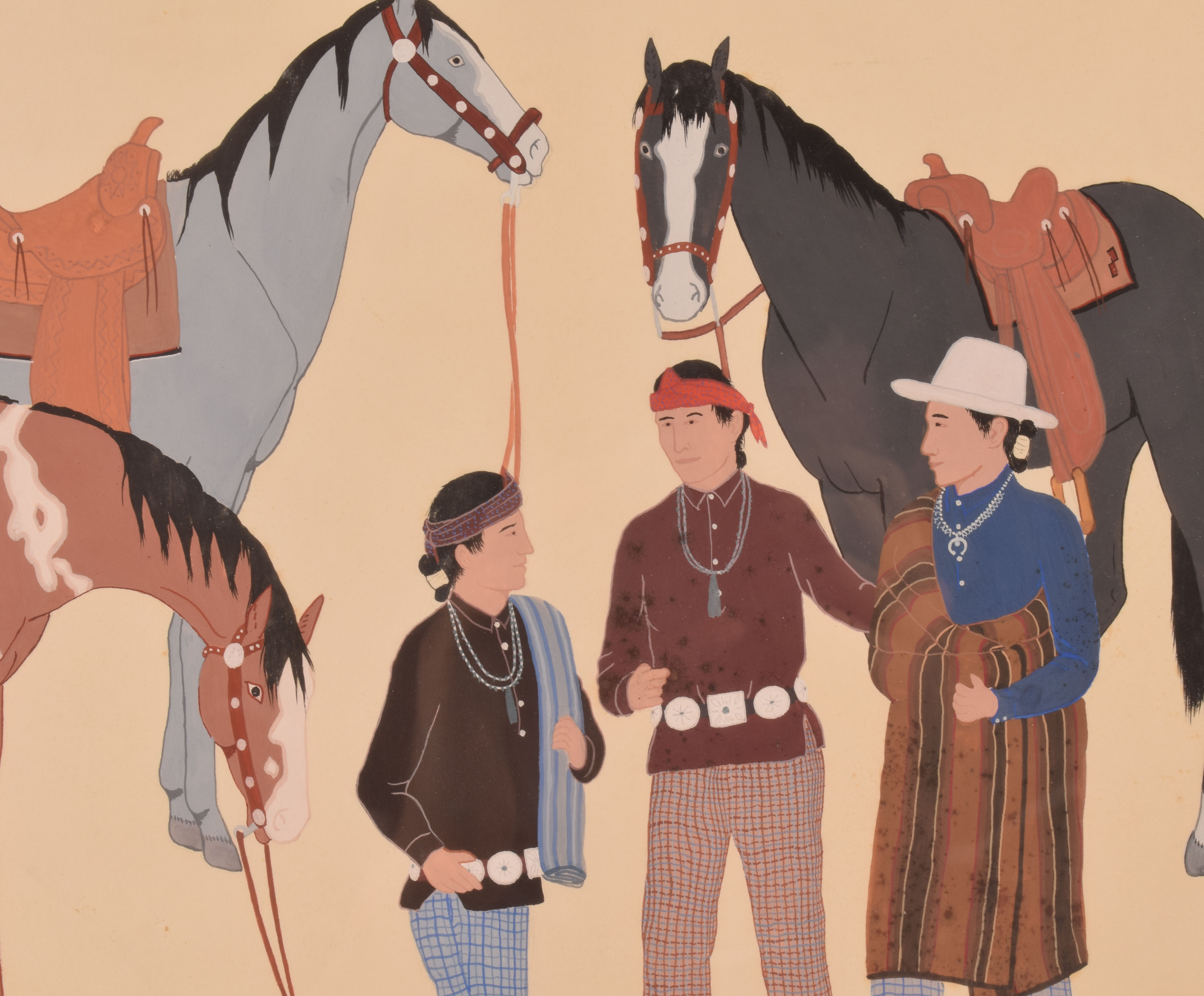 Harrison Begay, Diné Artist of the Navajo Nation
Category: Fine Art - Native American Paintings
Origin: Diné of the Navajo Nation
Medium: watercolor
Size:
11-3/4" x 16" image;
17-3/4" x 21-7/8" framed
Item # C4199

SOLD
---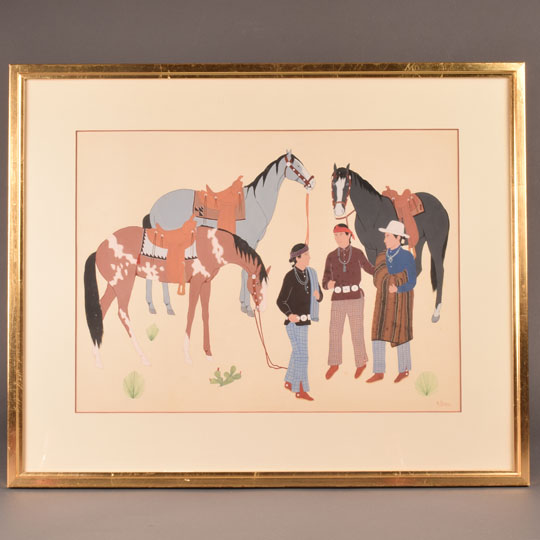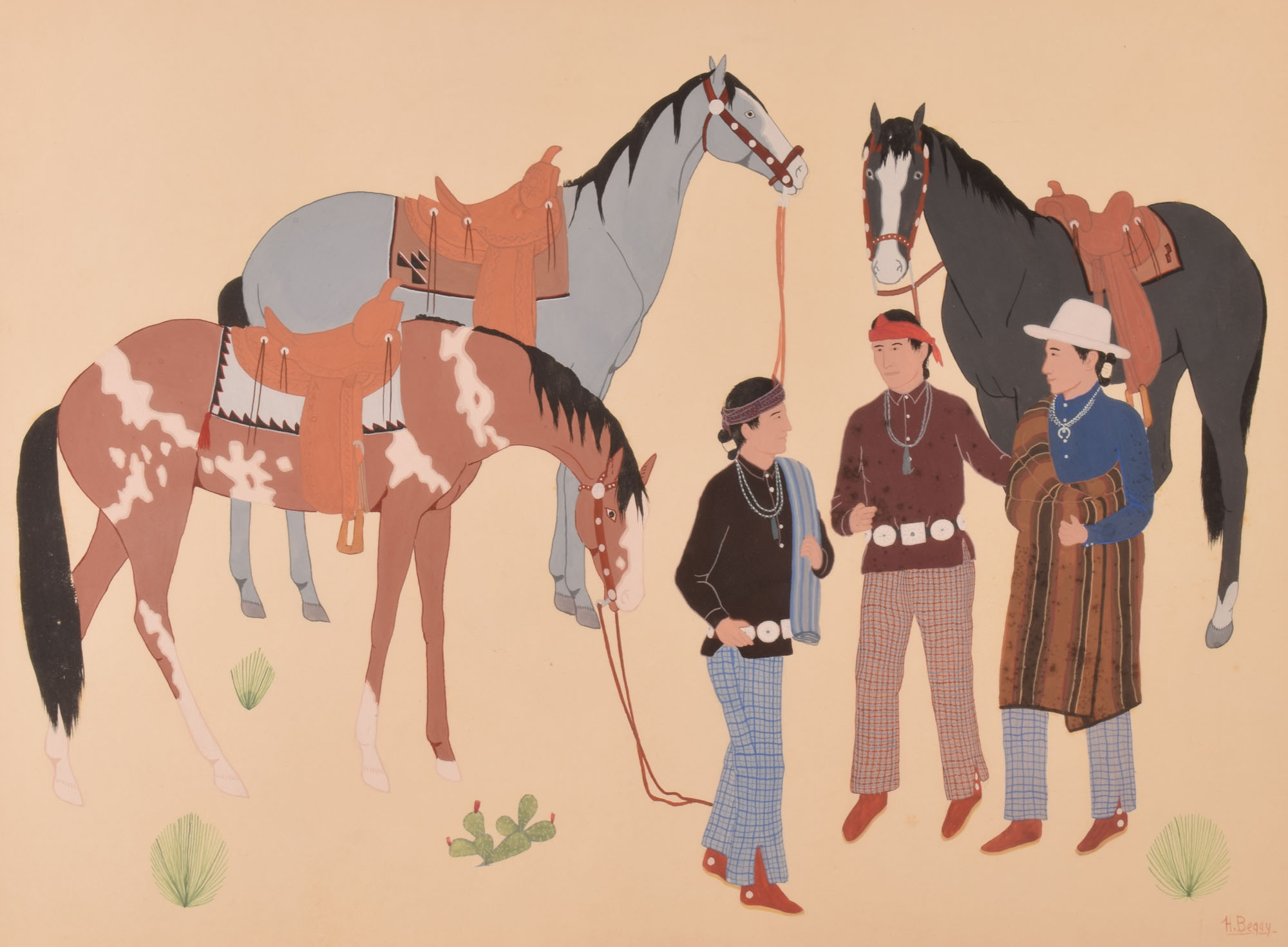 Click on image to view larger.
---