---
Hopi Pueblo Qa'o'tiyo, Corn Boy Katsina Doll, circa 1930s [SOLD]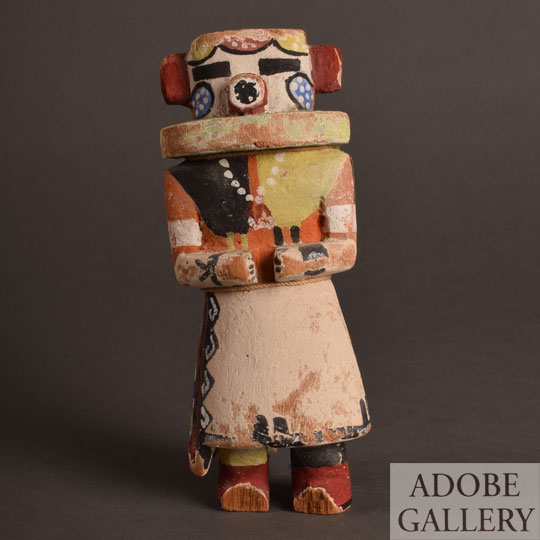 + Add to my watchlist Forward to Friend
This katsina doll from the 1930s represents one of the several "Corn Katsinam"—specifically Qa'o'tiyo or Corn Boy Katsina. There are Corn Katsinam representing the colors of the four directions and colors of corn—red, yellow, blue and white. Corn is an important symbol to the Hopi people and has significant importance to the Hopi Pueblo way of life.
The blue on the face of this doll probably represents blue corn, the corn used for making piki bread. The round structure below the mask represents an evergreen ruff. The doll has its arms and hands attached to the torso in the style predominant to the 1930s.
The various Corn Katsinam appear during the winter Kiva dances and in the spring Plaza dances. In the book Hopi Kachina Dolls with a Key to their Identification, on page 48, Harold S. Colton indicates that Qa'ö and Avachhoya (Spotted Corn Kachina) are Corn Katsinas and he shows totally different drawings for the masks, neither of which is like this doll.
In the book Following the Sun and Moon—Hopi Kachina Tradition, Alph H. Secakuku illustrates on page 72 a Qa'ökatsina that again is different in appearance from the ones in Colton. On page 77, Secakuku shows another Qa'ökatsina which he also calls Ngayayataqa Katsina, which, again, is a different style mask.
The point of the above narative is that there are several Hopi Katsinas that are under the general title "Corn Katsina."
Condition: this Hopi Pueblo Qa'o'tiyo, Corn Boy Katsina Doll, circa 1930s is in good condition with paint abrasion and toes of both feet missing
Provenance: from a gentleman from Albuquerque
References:
-Colton, Harold S.. Hopi Kachina Dolls with a Key to their Identification, University of New Mexico Press, Albuquerque, 1959.
-Secakuku, Alph H. Following the Sun and Moon-Hopi Kachina Tradition, Northland Publishing, Flagstaff, 1995.
Other Recommended Sources:
-Fewkes, J. Walter. Hopi Kachinas in Bureau of American Ethnology, 21st Annual Report
-Stephen, Alexander M. Hopi Journal. Edited by Elsie Clews Parsons, Columbia University Press, New York. 1936
-Earl, Edwin and Edward A. Kennard. Hopi Kachinas. J. J. Augustine, New York. 1938
Relative Links: Kachina – Katsina Doll, Hopi Pueblo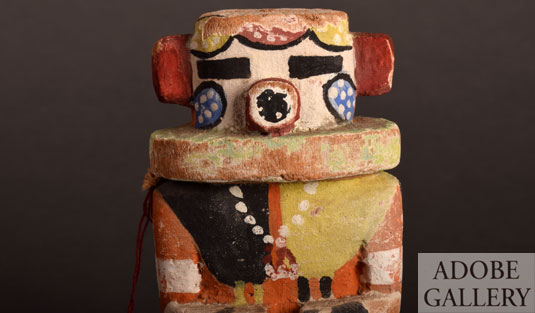 Carver Unknown
---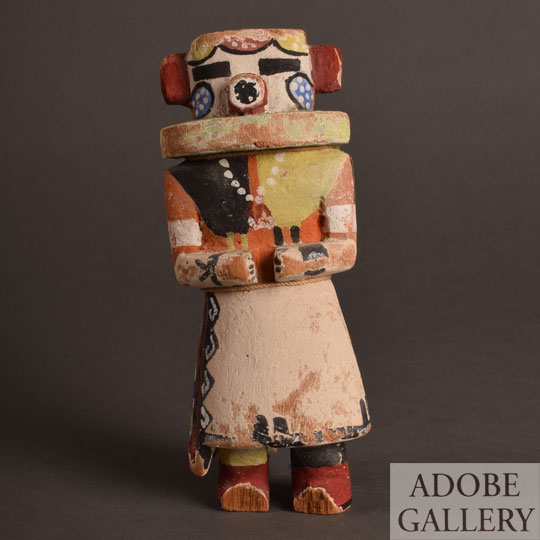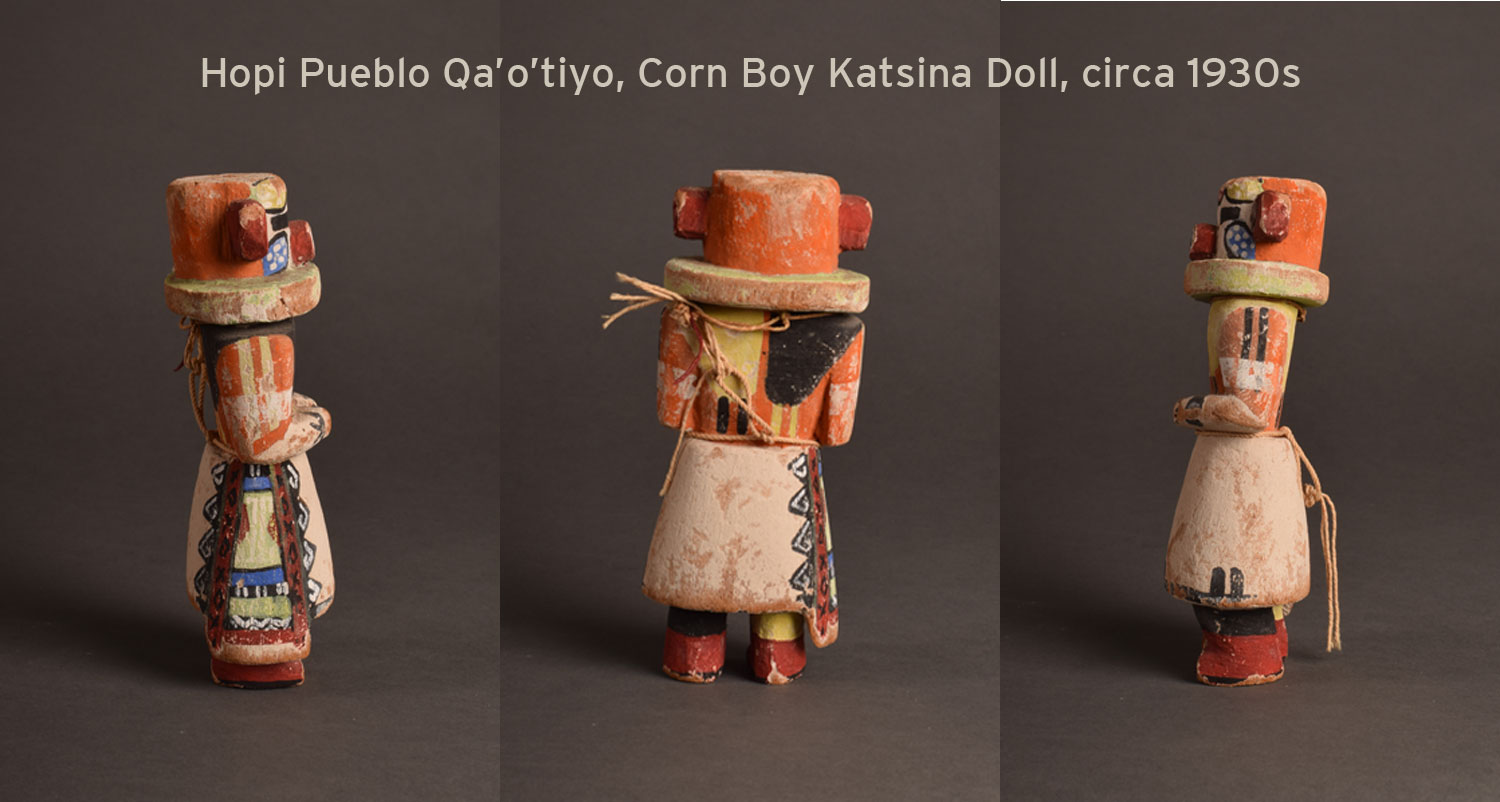 Click on image to view larger.
---
Adobe Gallery Recommended Reading
Adobe Gallery Recommended Items
---
If you are interested in this item, we would also like to recommend these other related items: