---
Hopi Pueblo Second Mesa Coiled Pictorial Shallow Basketry Plaque with War God Imagery [SOLD]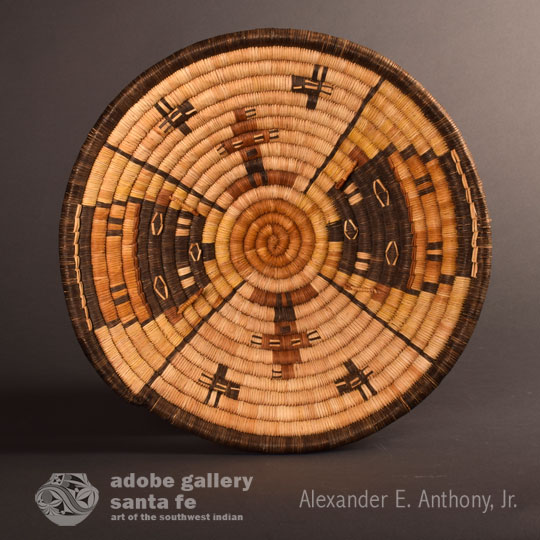 + Add to my watchlist Forward to Friend
The Hopi people from Second Mesa villages of Shungopavi, Shipaulovi, and Mishongnovi have made coiled basketry for more than a hundred years and those made today are made in the same manner as before. Galleta grass is gathered in July and August for use as the foundation or warp of the basket. Traditionally, the leaves of the Yucca plant, which will be used for the weft of the basket, are not gathered until after the katsinas depart the mesa in mid-July. Now, however, so few yucca plants grow on the reservation, the women go as far as Santa Fe, New Mexico, to gather yucca leaves, so the restriction on gathering them before Niman Ceremony does not apply.
In this plaque, the four bottom center coils are wound with dark yellow yucca split leaves. The remaining eleven coils are wound with yucca leaves that have been sun bleached. The outer black rim is wrapped in devil's claw. At the top of the head of the war god image is imbricated yucca. Earrings were made from wrapped yucca strips and inserted into the coils during the weaving process.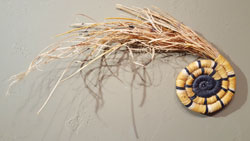 What are these baskets made of? Shown (right) is an image of materials that a coiled plaque is made from ... grasses and yucca. If you want to see how they are made, look at the video shown right below the Adobe Gallery Recommended Reading.
The images on this coiled plaque are those of Pö-ökang-Hoya, one of the two Little War Gods, and Koyemsi or Mudheads, neither of which is technically a katsina. Pö-ökang-hoya, is one of two War Gods. His companion War God is Palö-ngao-hoya. The images on the plaque are of Pö-ökang-hoya. "Both war gods are depicted as young boys, but ... as warriors. Pö-ökang-hoya wears a skull cap with feathers. His face is painted black with two vertical white lines, warrior symbols, on his cheeks." Colton,1959/81
The Koyemsi, or Mudhead, is categorized in the clown realm, however, he is not a clown in the sense of what we think. He is much more important as an interlocutor between katsinas and humans. Although not considered to be a katsina, the Koyemsi do wear masks. "The Koyemsi appear in performances where they do feats of magic, wrestle with the Water Serpents, engage in games with ritualized content, appear as puppets, accompany the Sio Salako, and fetch wood. Clowns perform none of these activities." Wright, 2004:72
---
Condition: this Hopi Pueblo Second Mesa Coiled Pictorial Shallow Basketry Plaque with War God Imagery is in exceptionally good condition
Provenance: from a gentleman from Colorado
References:
- Colton, Harold S. Hopi Kachina Dolls with a Key to their Identification. 1959
- Wright, Barton. Clowns of the Hopi: Tradition Keepers and Delight Makers. 2004
Relative Links: Hopi Indians, Katsina, baskets, Earrings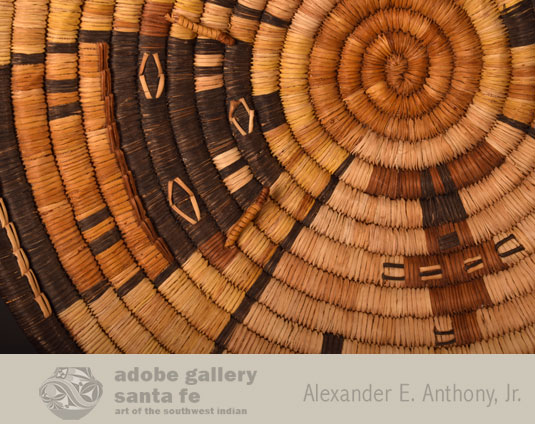 Weaver Unknown
---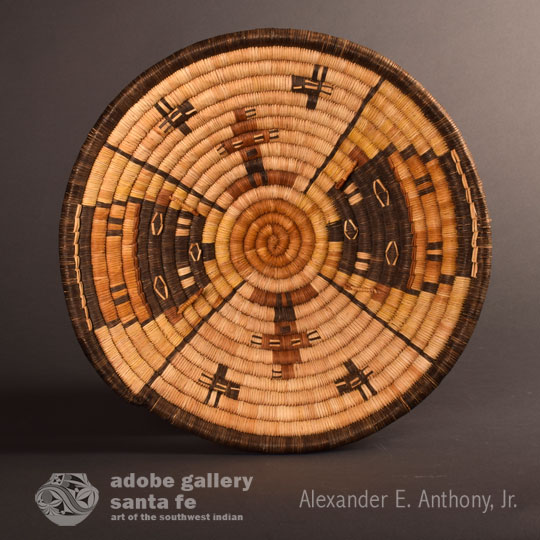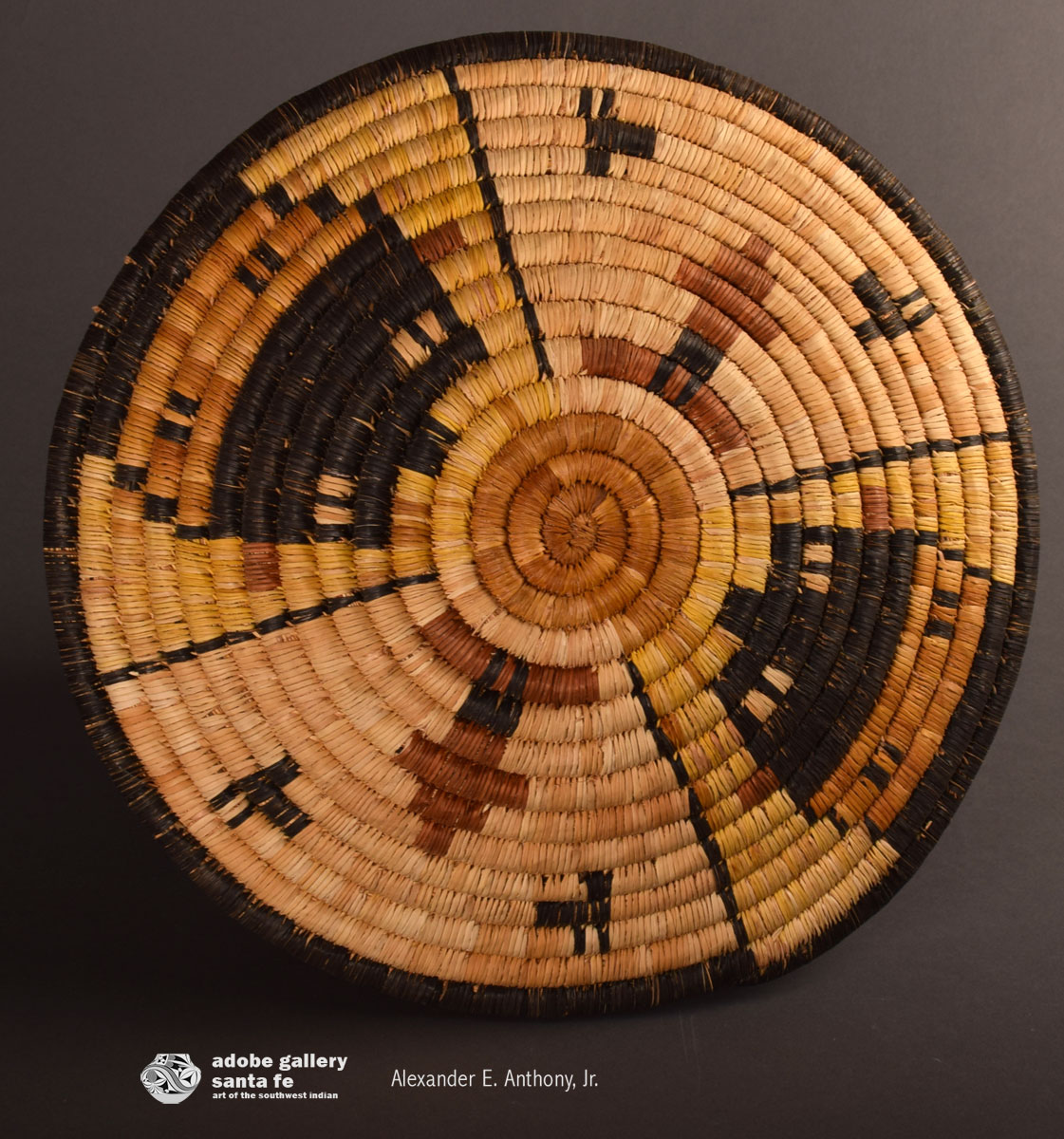 Click on image to view larger.
---
Adobe Gallery Recommended Reading
Adobe Gallery Recommended Items
---
If you are interested in this item, we would also like to recommend these other related items: