---
Hopi Pueblo Traditional Sipikne Katsina Doll [SOLD]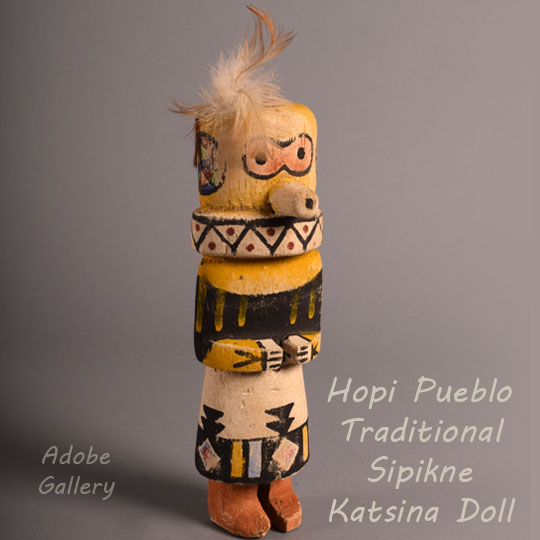 + Add to my watchlist Forward to Friend
This Hopi Pueblo all-wood carving of Sipikne Katsina was fashioned in a slightly flat style rather than the traditional rounded style, resulting in an oblong scale. He is the yellow directional version of the katsina. The carving was executed very well with the hands attached to the stomach in the fashion of the 1920s-30s carvings, however, this one was carved later.
This Sipikne Katsina doll is traditional in all aspects representing the katsina. His face is yellow with colorful medallions on both sides, and with red, outlined in black, emphasizing the eyes. The neck ruff simulates traditional feathers. His chest and back are yellow, as are his lower arms. He wears a traditional Hopi embroidered kilt and brown moccasins.
"This particular Zuni Kachina is often danced by the Hopis. His Zuni name is Salimopaiyakya but among the Hopis he may be called Sipikne or Talaimochovi. He dances in a very active manner, bounding about and raising his knees much higher than the usual kachina. The dance is so demanding that only young men usually take this personation. He may appear in the Night Dances, the Bean Dance, a Mixed Dance, or in any other dance where it is felt that he would be appropriate. Sipikne may appear in several different colors but black or yellow seems to be the most favorite. He very often functions as a guard to keep people back from certain other kachinas." (Wright, 1973)

"This Kachina, an import from Zuni, is undergoing a gradual transformation into a more Hopi form of kachina through slight innovations which change the original figure. Formerly, the Sipikne came with no rattles at all and danced furiously in complete silence, but of recent sleigh bells have been added to his costume. He comes in all of the directional colors and is a favorite of the kachina carvers. The kachina is characterized by such rapid movement when he appears in a dance or as a guard that only the younger men can maintain the pace. The multiple names of this kachina are derived from variations on the Zuni name of Salimopanyakya or the fact that he has a long snout, Talaimochovi. His effigy is easy to carve and yet colorful. [Wright, 1977:42-43]
---
Condition: very good condition with some paint abrasions
Provenance: this Hopi Pueblo Traditional Sipikne Katsina Doll is from a private Pennsylvania collection
References:
- Colton, Harold S. Hopi Kachina Dolls: with a Key to their Identification
- Wright, Barton. KACHINAS A Hopi Artist's Documentary
Carver Unknown
---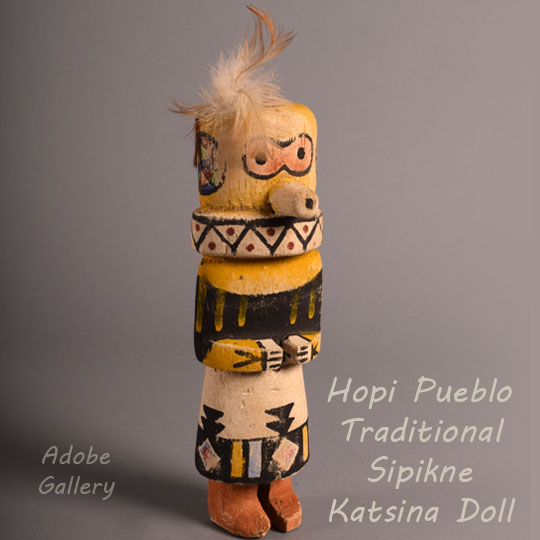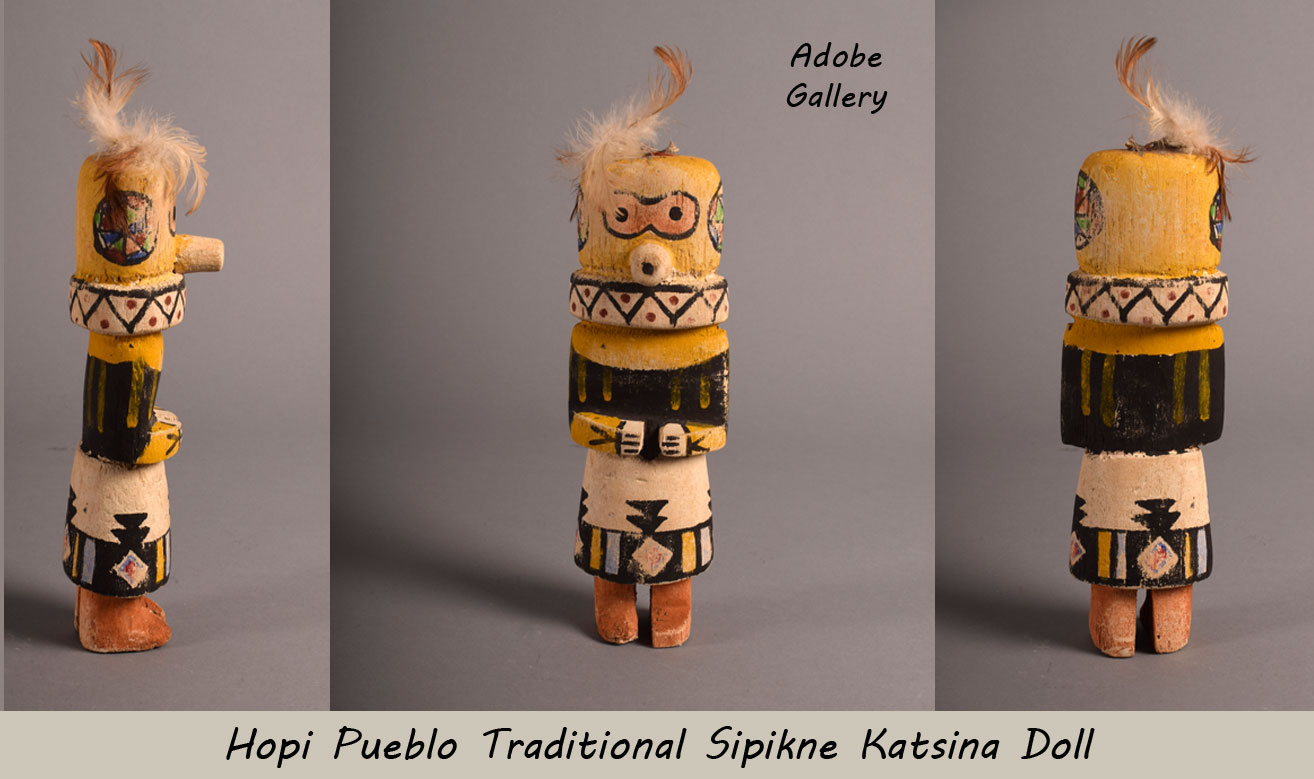 Click on image to view larger.
---
Adobe Gallery Recommended Reading

KACHINAS A Hopi Artist's Documentary [SOLD]
by Barton Wright


Hopi Kachina Dolls: With a Key to Their Identification
by Harold S. Colton

Adobe Gallery Recommended Items
---
If you are interested in this item, we would also like to recommend these other related items: