---
Phenomenal Native Made for Native Use Kewa Turquoise and Heishi Necklace
+ Add to my watchlist

Forward to Friend

This two-strand necklace has all the attributes of a necklace made for use by the maker, not made to be sold. It is filled with items of special importance to the maker. Such a mixture would not be considered of interest to a buyer of jewelry.
Let's see if we can dissect it item by item. One strand consists of brown shell heishi with four turquoise nuggets, three of which were drilled in their centers, and one drilled at the edge. Additionally, seven small turquoise were sanded and drilled into the style of heishi. This strand alone would suffice to say that the necklace was made for personal use. Its inconsistencies would be considered not of interest to a non-Native buyer.
The second strand is even more interesting with its assortment of irregularities. First, the heishi at the ends of the strand were formed from brown shells. The heishi in the center section was made from white shell and deliberately not sanded to uniform sizes—the center section of heishi being larger and irregular in diameter.
Now, for the mixture of items strung within the heishi. There is a small seashell in its natural state; two oversized heishi-shaped pieces of jet; a triangular item of jet, drilled off-center; a white abalone cylinder drilled off-center; a mother of pearl rectangular bead; turquoise heishi interspersed within the shell heishi; four white shell beads of irregular shape; and seven large turquoise nuggets varying in size and shape. The two strands are tied together and finished in a loose pueblo wrap.
Such a necklace is unique in its display of items of interest or importance to the maker of the necklace. There was no attempt to compose a necklace with consistency or balance. This is a personal expression of the maker.
This necklace, if never worn again, is historically important because of its uniqueness. It should be treasured and appreciated for what it is and what it tells us.
Heishi: made from coral, turquoise or seashell. The shells or coral are first cut into small square sections, drilled in the center, strung on wire or string, then sanded by hand, in an up and down stroke, until each one is round. That sounds easy but is not. It is important to exert the same pressure on every stroke to achieve heishi of the same diameter when finished. The shell is punched out in a square shape, hole drilled through center, strung, and then sanded to the diameter it needs to be. According to the Indian Pueblo Cultural Center, the beaded tradition is most closely associated with Santo Domingo Pueblo, known for creating beautiful shell and gemstone beads by hand. These beads are called "heishi," which means "shell" in the Santo Domingo language Keres. Necklaces with similar bead styles have been found in the ancient Anasazi sites Chaco Canyon and Mesa Verde, and heishi may be the oldest form of jewelry in New Mexico. Traditionally, heishi beads are smooth flat discs, but today the term is used to refer to any small beads that are strung together. Note: Sometimes the word is incorrectly seen as heishe. Think of "e" before "i" and you have the correct way to spell this word.
---
Condition: in very good condition
Provenance: this Phenomenal Native Made for Native Use Kewa Turquoise and Heishi Necklace is from the estate of a family from eastern Washington
Recommended Reading: North American Indian Jewelry and Adornment - From Prehistory to the Present by Lois Dubin
TAGS: Southwest Indian Jewelry, KEWA, Santo Domingo Pueblo, necklace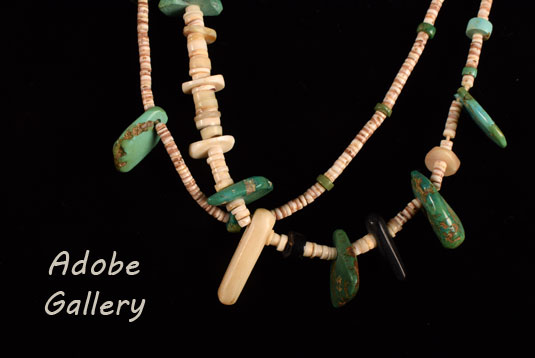 Jeweler Unknown
Category: Necklaces
Origin: KEWA, Santo Domingo Pueblo
Medium:
shell heishi, turquoise, mother of pearl, jet, lapis?
Size: 27 inches long end-to-end
Item # C4569M
Price:

$950
---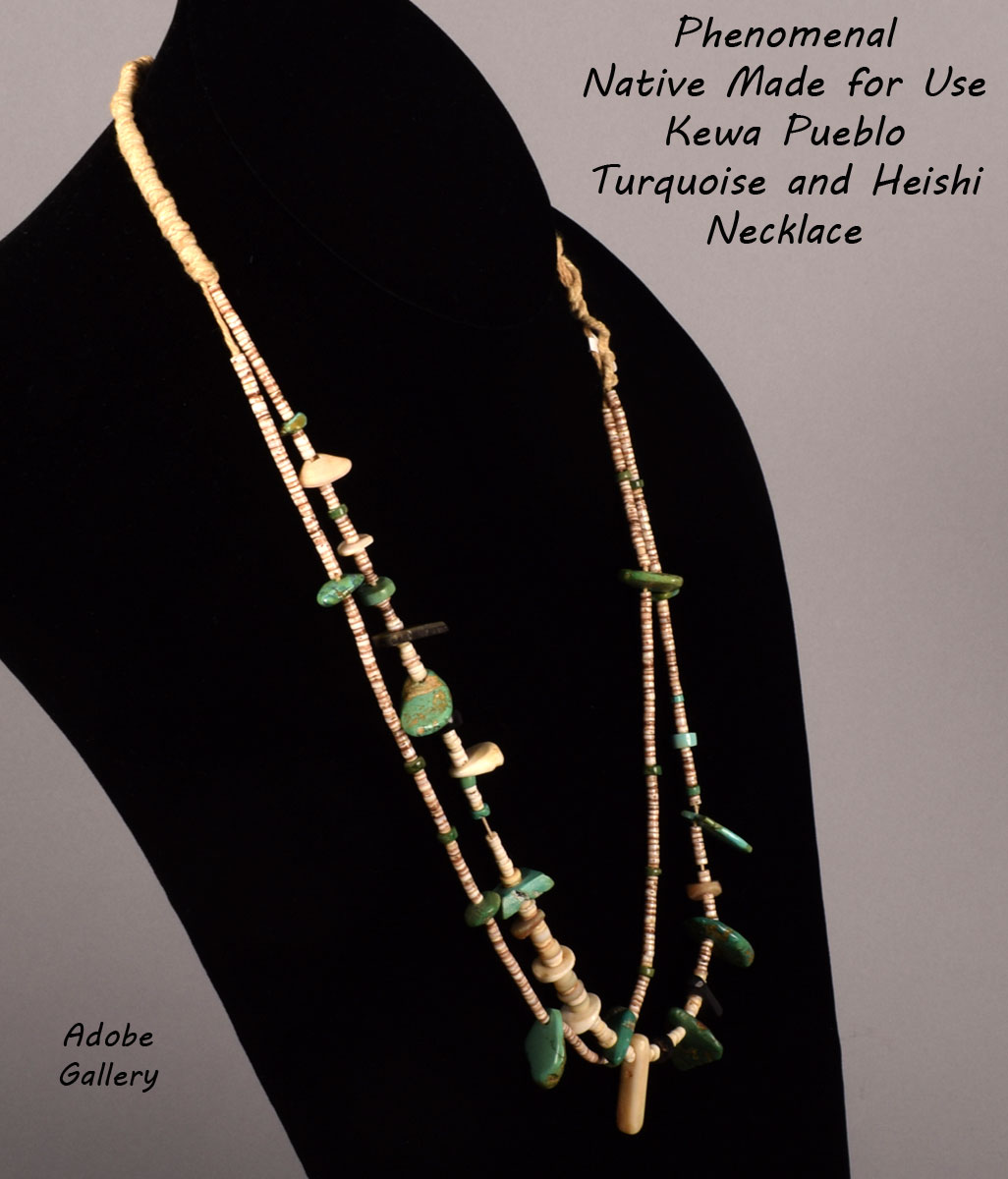 Click on image to view larger.
---
Adobe Gallery Recommended Reading