---
Red Mesa Outline Navajo Rug [SOLD]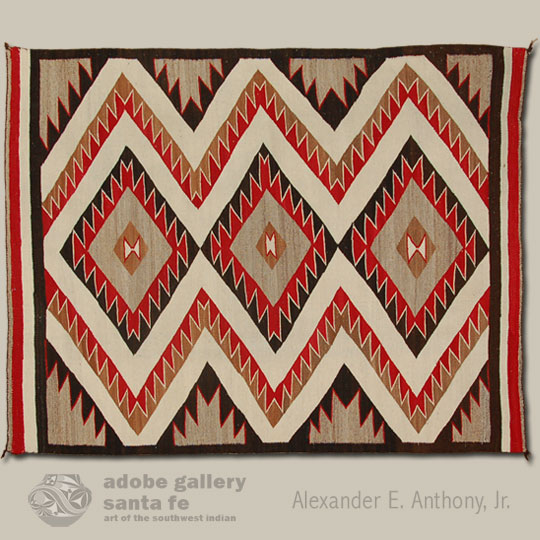 + Add to my watchlist Forward to Friend
It is not uncommon for dealers and traders to be asked if a certain design on pottery or textiles has a meaning. Often, the answer is one of restraint as it is probable that designs were given meaning by early traders to add mysticism and intrigue, and those designs may or may not have had any meaning to the artisan. It is quite likely that some designs do have meaning but, if so, those meanings remain as secrets to the members of the tribe as they are not indiscriminately divulged to those outside the tribe.
There have been some published documents by anthropologists and researchers that describe the origin, if not an accurate meaning, of some design traits. Marian Rodee, in her book Weaving of the Southwest, defines the use and meaning of colors. She states that red, white, blue, black and yellow were the major colors of early Navajo weavings. She then goes on to describe the meaning and importance of those colors.
"Color, of course, has its directional symbolism as it moves within all religious actions in a sunwise motion—that is from east to south to west to north. White, the color of the east, separates the sacred from the profane; blue is the color of happiness and fertility of the earth; black gives invisibility and, thus, protection; yellow is the color of corn and pollen and represents the fertility of the earth. Red is a strong color not only visually, but as a symbol of war, danger and witchcraft. It is also thought to protect one from danger."
The use of these colors in early Navajo textiles then would seem logical. It could have been a coincidence, but likely not. The Navajo are considered to be very superstitious and with a belief in witchcraft. Following tradition is important and, perhaps, use of those directional colors was a way to stay in tune with nature.
Red Mesa is in the general area of Two Grey Hills, Teec Nos Pos and Crystal Trading Post, each of which developed its own distinctive weaving designs. Red Mesa seems to have borrowed some traits from each of those in developing its own unique style, referred to as Red Mesa Outline. It is also likely that the outlining of design elements in Red Mesa textiles was an idea lifted from Navajo sandpaintings, in which lines of a contrasting color between two other colors has strong meaning.
The *Diné are a resilient people and have adapted to living in a white culture. It is a tribute to their culture that they have been able to adapt their weaving talents in a manner to provide income and yet to stay true to their beliefs.
This circa 1940s Navajo textile demonstrates the outlining technique. There is a narrow red line between two colors and a narrow white line between other colors. Such a technique adds vibrancy to the textile and adds a feeling of movement and excitement. The textile assumes a dynamic life.
Condition: very good condition
Provenance: this Red Mesa Outline Navajo Rug is from a resident from Texas who inherited it through the family
Reference: Weaving of the Southwest by Marian Rodee, 1987.
*Note: when we say Diné (as opposed to Navaho or Navajo), we are referring to the people and not the government. Since 1969, their government refers to itself as the Navajo Nation.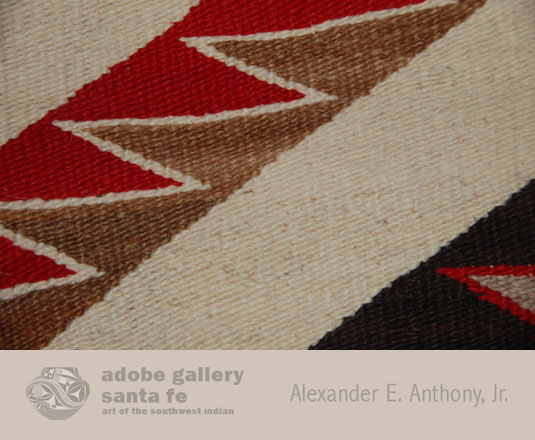 Artist Unknown
---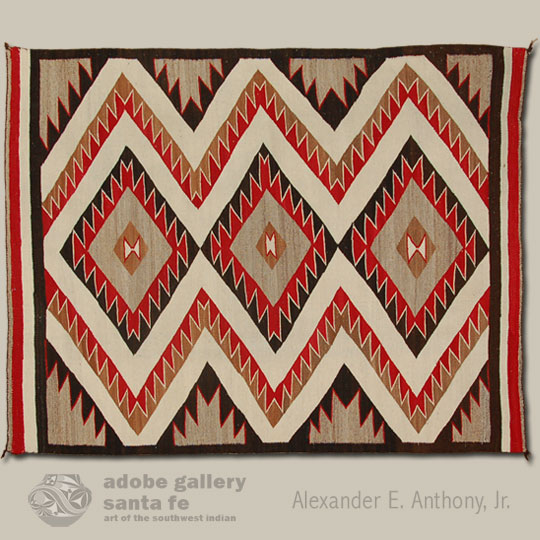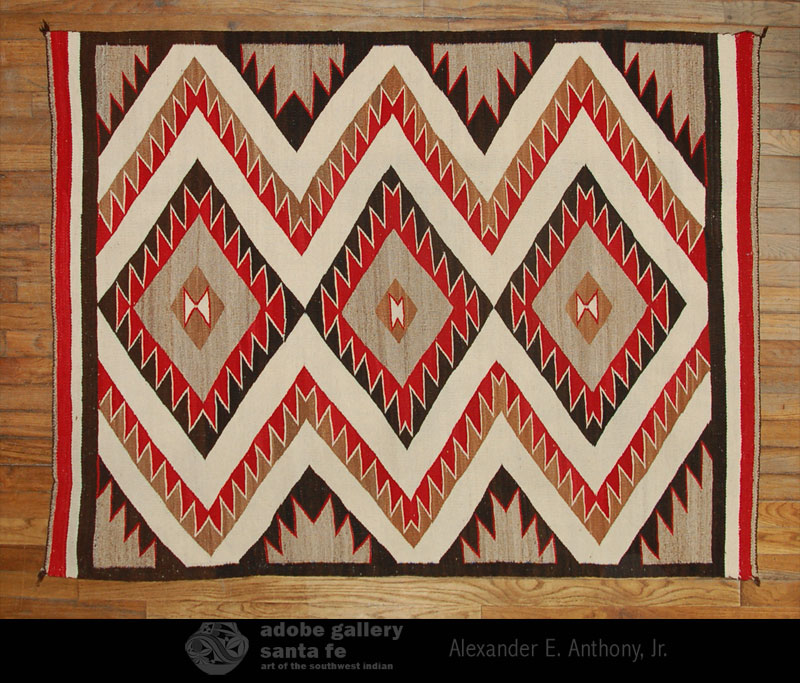 Click on image to view larger.
---
Adobe Gallery Recommended Reading