---
Santo Domingo Pueblo Polychrome Pottery Jar with a Bold Design by Felipita Aguilar Garcia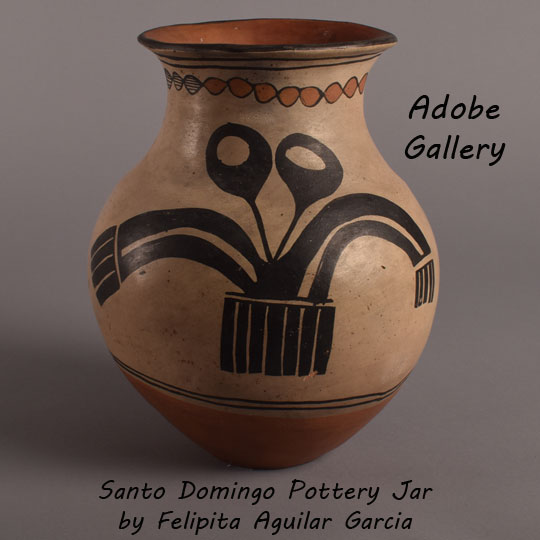 + Add to my watchlist

Forward to Friend
Rain symbols are often used on pottery; the artists are at once expressing gratitude and asking for more. Rain is very important to New Mexico and is always scarce, so a plea for help from the Great Spirit is understandable. This is a unique and wonderful Santo Domingo Pueblo Polychrome Pottery Jar with a Bold Design by Felipita Aguilar Garcia that may have had special significance to its desert-dwelling creator.
Variations of the motif on this jar are common on early twentieth century ollas. In his unpublished notes, Kenneth Chapman recorded that this design was invented by a potter, with surname Garcia, between 1905-1910. [Batkin,1987:105] The time period, and Garcia name mentioned by Chapman, make it almost certain that he was speaking of Felipita Aguilar Garcia, one of the now-famous Aguilar sisters.
The striking design on the body of the vessel certainly relates to rain, clouds—water sources. The most prominent features are pairs of black lines curving up and out, increasing in width. These have been referred to as "spread arm" designs. The small elements floating above and between these probably represent clouds, from which a heavy rain is falling.
Around the neck, the potter painted a necklace of small circles, some of which are filled with horizontal parallel black lines, and the others filled with an orange slip. Just below the outturned rim is a pair of framing lines with the traditional ceremonial line break. Another pair of framing lines circle the jar below the design area, but this pair does not have ceremonial line breaks.
The underside of the jar is concave, as is traditional for water jars. The lower part of the vessel is covered in red slip, as is the interior of the rim.
---
Condition: excellent condition
Provenance: this Santo Domingo Pueblo Polychrome Pottery Jar with a Bold Design by Felipita Aguilar Garcia is from the collection of a family from Florida
Reference: Batkin, Jonathan. Pottery of the Pueblos of New Mexico 1700-1940. The Taylor Museum of the Colorado Springs Fine Arts Center, 1987.
TAGS: Santo Domingo Pueblo, pottery, Felipita Aguilar Garcia, Asunción Aguilar Caté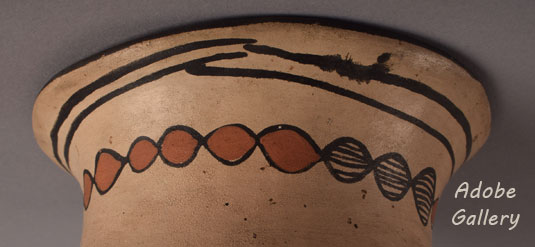 Felipita Aguilar Garcia, Santo Domingo Pueblo Potter
---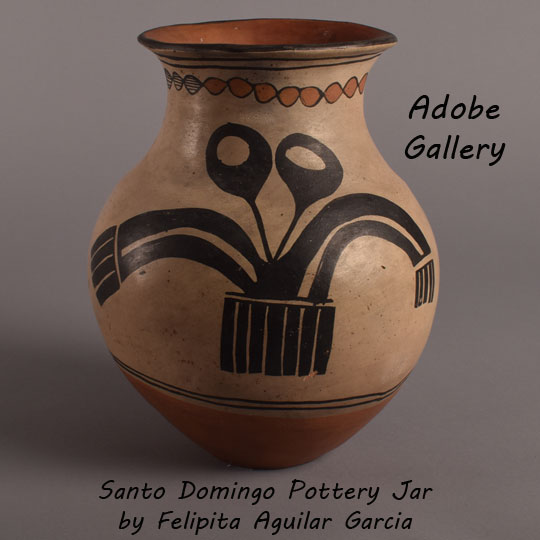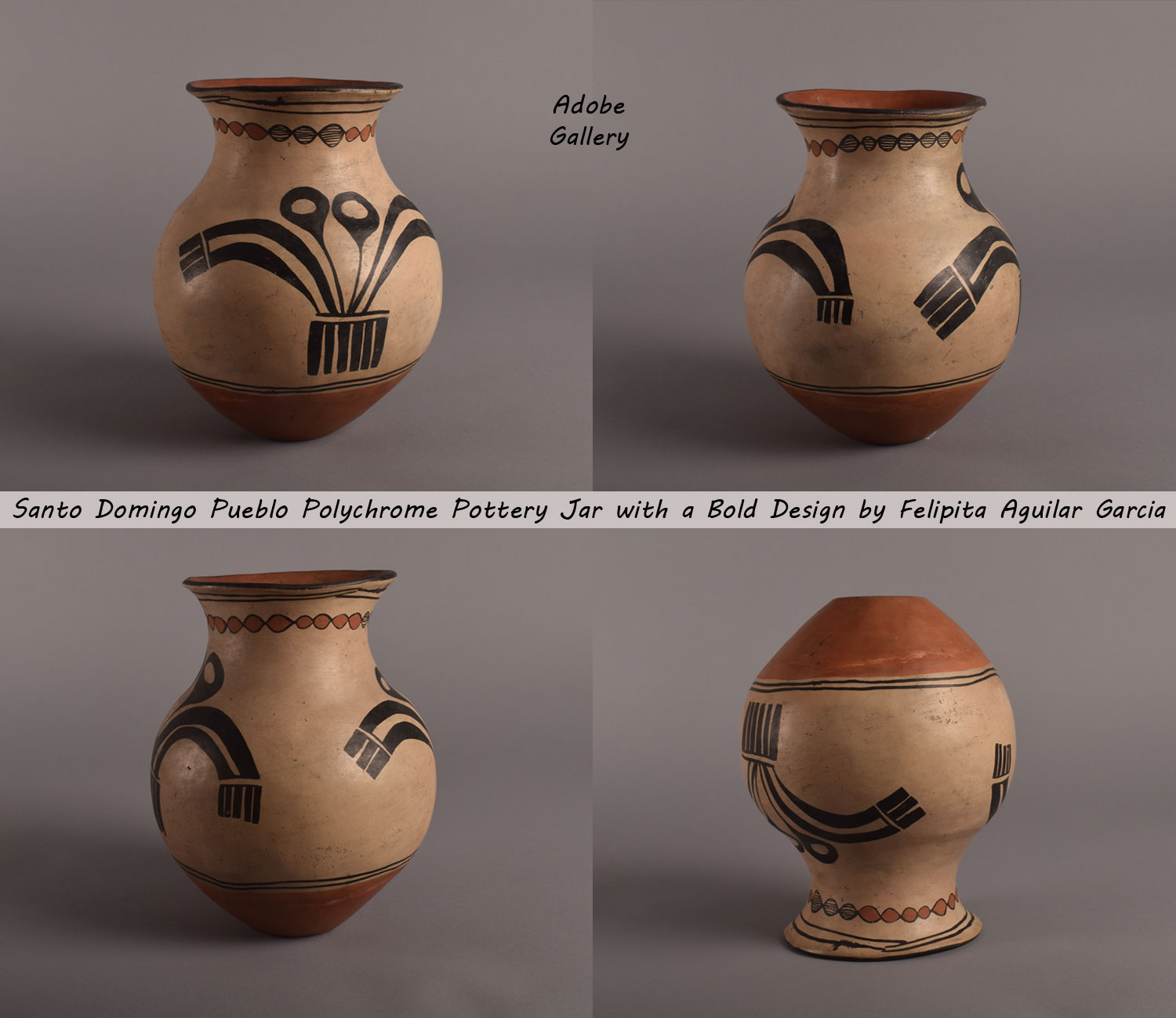 Click on image to view larger.
---
Adobe Gallery Recommended Reading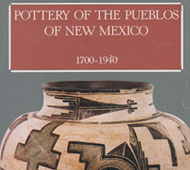 Pottery of the Pueblos of New Mexico 1700-1940 [SOLD]
by Jonathan Batkin, Author


THE POTTERY OF SANTO DOMINGO PUEBLO: A Detailed Study of its Decoration [SOLD]
by Kenneth Milton Chapman (1875-1968)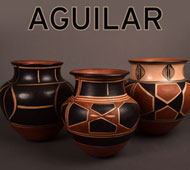 SHOW CATALOG: AGUILAR, Felipita and Asunción, Santo Domingo Pueblo circa 1905-1914
by Alexander Anthony

Adobe Gallery Recommended Items
---
If you are interested in this item, we would also like to recommend these other related items: