---
Two Eagle Dancers and Accompanying Singers and Drummers [R]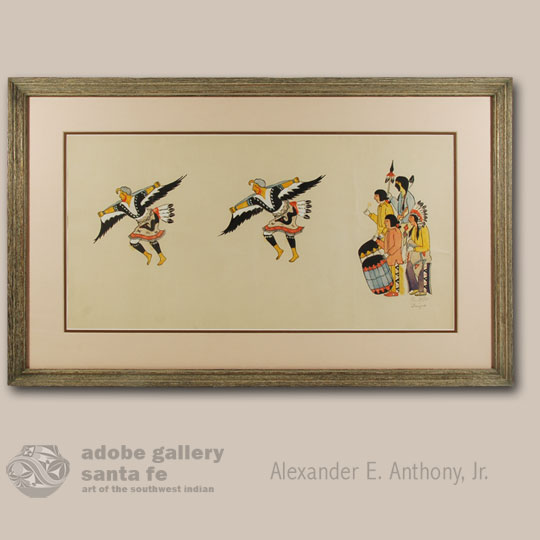 + Add to my watchlist

Forward to Friend
The Eagle Dance is performed in early spring and repeated from time to time during the summer. The eagle is believed to have direct intercourse with sky powers and is much venerated by the Pueblo Indians. The Pueblo Eagle Dance is a dramatization of the relationship between the eagle and man and supernatural powers. Generally, two young men, costumed as eagles, imitate, during the dance, almost every movement possible of the eagles. They replicate eagles soaring over the fields, perching on high places, and resting on the ground.
This is a dance also often performed away from a pueblo, such as at the Indian Pueblo Cultural Center in Albuquerque, but it still represents its primary purpose and is not intended as entertainment.
In this painting, Tomás Vigil (1889-1960) Pan-Yo-Pin - Summer Mountain gave the Eagle Dancers plenty of space on the paper to illustrate their need for a wide range to swoop and dip and move around freely. The drummers and singers are grouped together tightly on the far-right edge. The colors are still vivid. The painting is without ground plane or other features in sync with traditional early pueblo painting style.
Vigil was one of the earliest 20th-century pueblo painters, with most of his works produced between 1920 - 1950. A self-taught artist, he captured the customs of Tesuque Pueblo with rigid accuracy and detail. He set the standard for subsequent Tesuque painters, including his son, Paul Vigil. His works are included in numerous collections, including the Millicent Rogers Museum in Taos, New Mexico, and the Museum of New Mexico in Santa Fe.
Olive Rush, a famous Santa Fe painter, bought Indian paintings and drawings as early as 1914 from Tesuque Pueblo. Among her early paintings were several by Pan-Yo-Pin. An exhibit in 1927 in New York featured an unusually large number of painters from New Mexico pueblos. Pan-Yo-Pin was included in this exhibit. These paintings made a tremendous impression on the Eastern public and were praised in the Eastern press.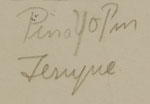 Pan-Yo-Pin was again represented in the Exposition of Indian Tribal Arts in 1931 in New York. This was a major exposition conceived and executed by Santa Feans and supported with items lent by over 50 museums, colleges and private collectors. With artist John Sloan as its president, the exposition gave an important place to paintings among other selections of arts and crafts.
Condition: the painting was executed on paper which appears to have been rolled for storage, resulting in three vertical crease lines.
Provenance: this painting of Two Eagle Dancers and Accompanying Singers and Drummers is from the collection of a family from Albuquerque
Reference and Recommended Reading: American Indian Painting of the Southwest and Plains Areas by Dorothy Dunn.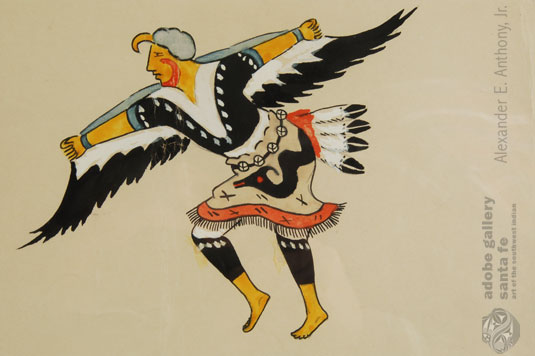 Tomás Vigil (1889-1960) Pan-Yo-Pin - Summer Mountain
Category: Paintings
Medium: opaque watercolor
Size:
11-1/4" x 22-1/4" image;
17-3/4" x 28-3/4" framed
Item # C3918i
Price No Longer Available
---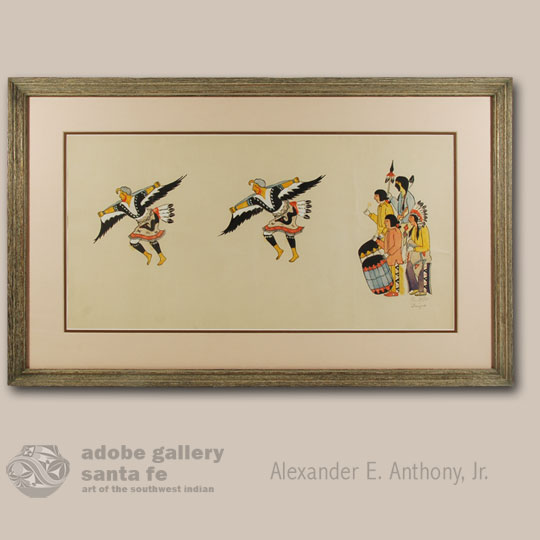 Click on image to view larger.
---
Adobe Gallery Recommended Reading