---
Untitled San Ildefonso Pueblo Painting of a Cloud Dance by Gilbert Atencio [SOLD]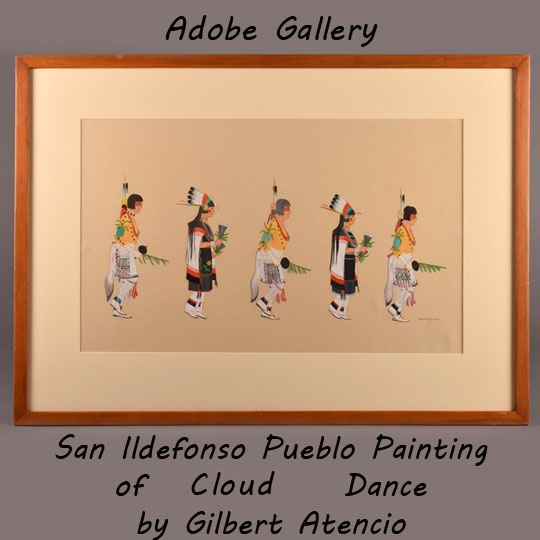 + Add to my watchlist Forward to Friend
That Gilbert Atencio had a reverence for and knowledge of pueblo ceremonial functions is apparent in the highly detailed, meticulously crafted painting style for which he is well known. This untitled painting is a fine example of this gifted traditionalist doing what he did best: depicting these functions with grace, skill, and a keen eye for detail. One can see in works like this exactly why Atencio was able to work as a technical illustrator—his subjects in this pueblo dance scene are astoundingly well crafted. Pictured here is the Cloud Dance. We originlly posted this as a Comanche Dance based on the head adornments. Our friend, Elvis Torres of San Ildefonso Pueblo informed us that even though the women are wearing the multi-colored capes normally worn for a Basket Dance, this painting reflects a Cloud Dance. He stated that it was probably Atencio's own choice to reflect his preference as an artist.



Atencio's work here is, as per his usual, exceptional. His subjects—three male and two female dancers—are perfectly composed. Their delicately rendered faces, with their eyes framed within sideways "V"s, seem to bear the influence of pioneering San Ildefonso painter Tonita Peña. Atencio, like Peña before him, had a remarkable gift for sensitively composed faces, lending his images an appealing warmth. His subjects' clothes, from their feathered headdresses down to their beaded moccasins, are presented with the incredible detail that is typical of his best works. To see a pueblo painter with such remarkable technical abilities present Plains Indian clothing is a rare treat. Atencio's Cloud Dance will delight collectors of rare and noteworthy Native paintings.
Gilbert Atencio, Wah Peen, was born in 1930 in Greeley, Colorado and died in April of 1995. He was the son of Isabel M. Montoya and the nephew of Maria Martinez. He was educated at San Ildefonso Day School and graduated from the Santa Fe Indian School in 1947. He served in the U.S. Marine Corp and lived most of his life in Santa Fe, New Mexico. Much of his inspiration for paintings came from stories his aunts told him about their lives. His style varied from the traditional "flat style" done early in his career, to abstract or semi-abstract paintings done in the 1980s. He was a medical and technical illustrator, too, working for Los Alamos National Laboratories.
Towards the end of his life Atencio said about his work: "I do my paintings both for myself and for other people, especially for people who enjoy Indians, their way of life, their ceremonies. The people who buy my paintings are that type of people. They know some history of the Pueblo Indians. I do it for myself and for them. For the non-Indians who buy my work, I do it so they will appreciate Indian art and understand the Pueblo Indians—for more understanding between non-Indians and Indian life. If they come into the pueblo and if they have a painting of a certain dance, they know that what I have painted is the old version, and what they are seeing now—even though the young girls have cut their hair—is still the same dance. And so, appreciate the dance. Have respect for the way." (Wyckoff, p. 66)

Condition: this Untitled San Ildefonso Pueblo Painting of a Cloud Dance by Gilbert Atencio is in excellent condition
Provenance: from the collection of a New Mexico resident
Relative Links: Native American Paintings, San Ildefonso Pueblo, Isabel M. Montoya, Maria Martinez, Gilbert Atencio, Tonita Peña
Gilbert Atencio, Wah Peen, San Ildefonso Pueblo Painter
Category: Paintings
Medium: watercolor
Size:
13-1/2" x 21-3/4" image;
21" x 29-1/8" framed
Item # C4084D

SOLD
---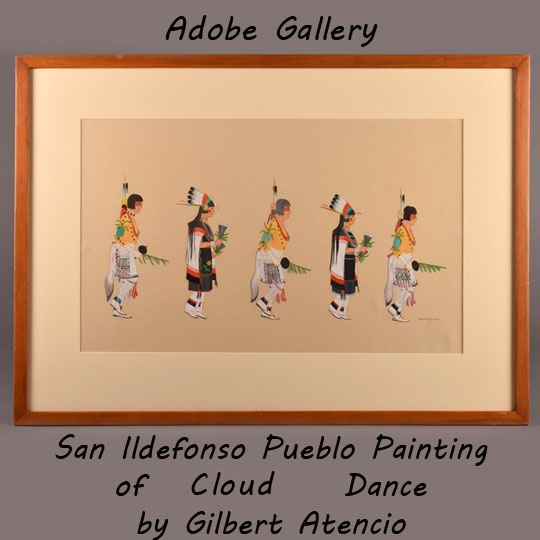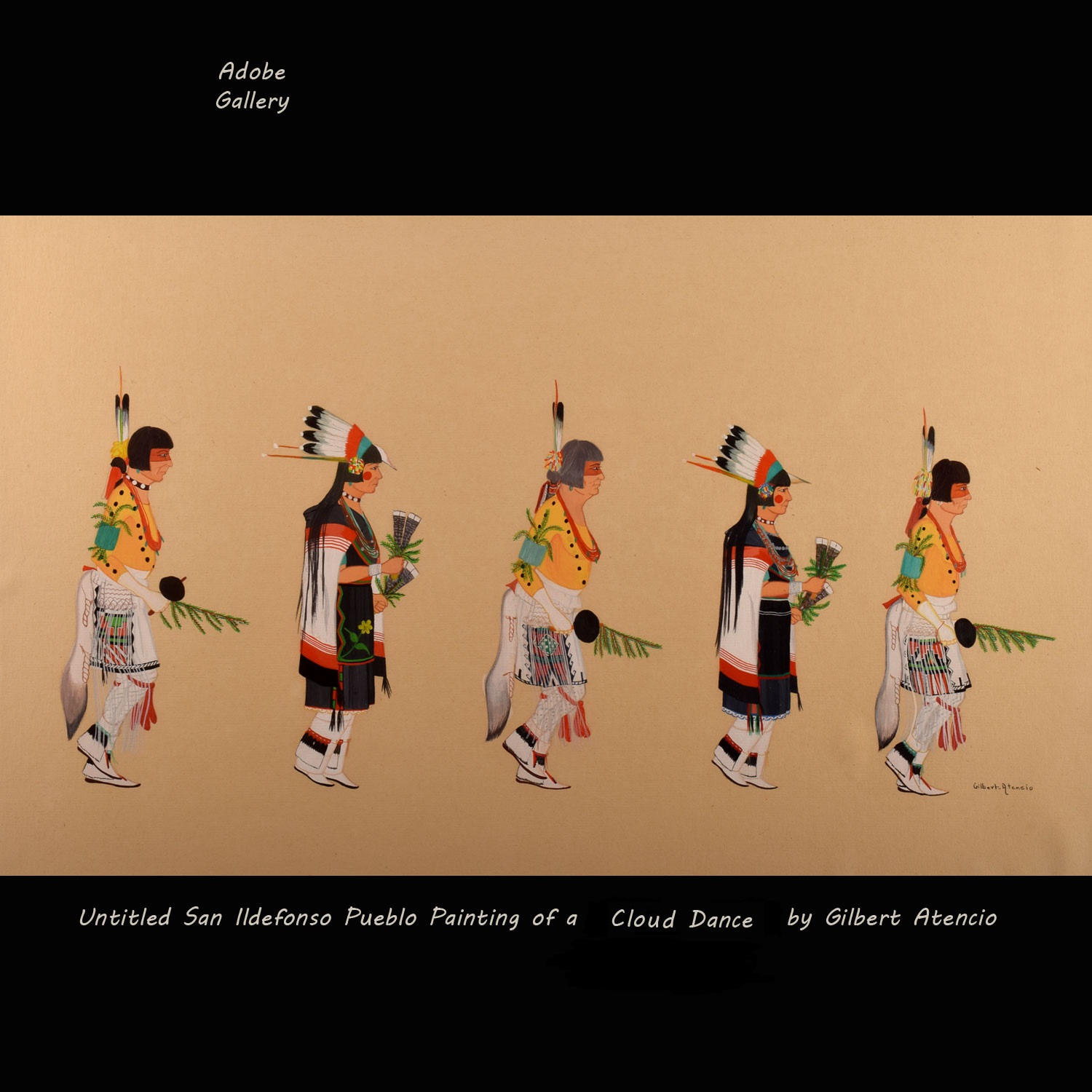 Click on image to view larger.
---
Adobe Gallery Recommended Reading

A Bridge Across Cultures: Pueblo painters in Santa Fe, 1910-1932
by J. J. Brody, et al.


Pueblo Indian Painting: Tradition and Modernism in New Mexico, 1900-1930 (Hardcover) [SOLD]
by J. J. Brody, et al.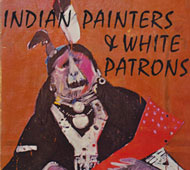 Indian Painters and White Patrons [SOLD]
by J. J. Brody, et al.