---
Untitled Painting of Navajo Men on Horseback [SOLD]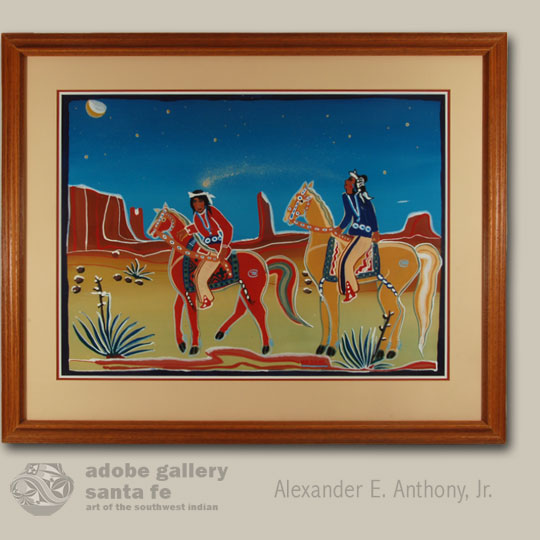 + Add to my watchlist Forward to Friend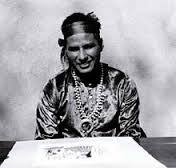 Narciso Platero Abeyta (1918-1998) Ha So De was a Navajo painter and silversmith. He was, among other things, a Golden Gloves boxer and one of the hundreds of Navajo Code Talkers who served in the Marines during World War II. Abeyta and wife Sylvia Ann had seven children, many of whom—Tony Abeyta, Elizabeth Abeyta Rohrscheib and Pablita Abeyta—became notable artists themselves.
Abeyta was educated at the Santa Fe Indian School by Dorothy Dunn, who commented on his abilities in her book American Indian Painting of the Southwest and Plains Areas: "Ha-So-De developed a markedly unique style, although, in his formative period, his admiration for the work of (Navajo painter Andy) Tsinhnahjinnie could be clearly seen. It was a fine influence and used honorably by the younger painter. His paintings of hunt and home scenes were broad in brushwork and flowing in line, at times appearing almost nonchalant. He was never concerned with small detail but only with the sweep and dash of movement in wild, free scenes. His was a positive art."
This untitled painting, which is signed "Ha So De" but not dated, is a truly remarkable work from this talented and significant artist. The influence of Andy Tsinhnahjinnie—whom, as Dunn pointed out, was a major influence on Abeyta's development as a painter—is apparent, particularly in the human figures, but does not in any way dominate the piece. The skill and grace with which he composed his human and animal subjects—here, two Navajo men and their horses—is typical of the original group of Navajo greats that inspired his work. Abeyta's creative voice, however, was too strong and unique to be defined by any one style or influence. His works are instantly recognizable, standing out from those of his predecessors and contemporaries. With this image, he turned an ordinary scene—Native Americans on horseback—into a truly extraordinary image. His bold, thick outlines—completed, deliberately, using non-naturalistic colors—are one of his works' most recognizable and endearing traits. In certain areas, where more strength is required, the artist augmented his primary outlines with additional lines in complementary colors. These doubled and sometimes tripled multi-colored outlines lend the image a surreal, psychedelic quality.

Contributing to this feel, also, is the wide color palette with which Abeyta worked. His serene blue night sky—dotted with stars, a comet, and a glowing quarter moon—is as rich and captivating as his primary subjects, becoming darker as it reaches further from the hills. In the foreground, underneath the horses' hooves, yellow and blue paints are combined to create a bright and inviting lime green. The hills and mesas, which may have been an afterthought for a lesser artist, are themselves as full of life as the humans and their horses. Completed in a rich sienna and augmented with bright red and white lines, they contribute immeasurably to the beautifully dreamlike feel of the painting. With this vibrant and joyful composition, Ha So De crafted a masterpiece.
Ha So De's son Tony Abeyta assessed the painting and offered some insight into its origins. He noted that his father rarely painted backgrounds, and had never, to his knowledge, painted a comet. He suspected that this piece was inspired and painted shortly after the 1986 appearance of Halley's comet. He also noted that the blue line underneath the signature is how Ha So De marked his favorite paintings.
Condition: this Untitled Painting of Navajo Men on Horseback is in very good condition with a few minor imperfections
Provenance: from the large collection of a Santa Fe resident, who purchased it from the Museum of Northern Arizona gift shop in 1987
Reference: Dunn, Dorothy. American Indian Painting of the Southwest and Plains Areas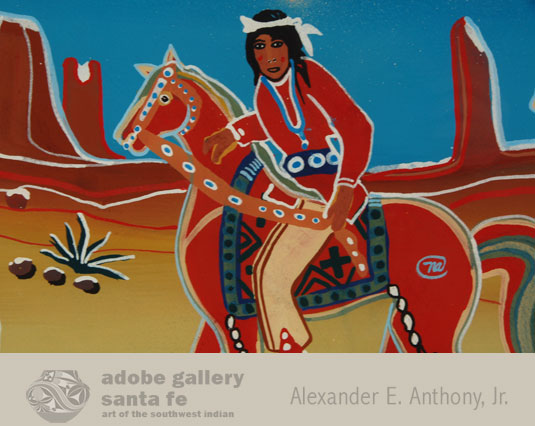 Narciso Platero Abeyta, Ha So De, Navajo Painter
Category: Paintings
Origin: Diné of the Navajo Nation
Medium: Gouache on paper
Size:
20-¼" x 27-¾" image;
30" x 37-⅛" framed
Item # C4059.15

SOLD
---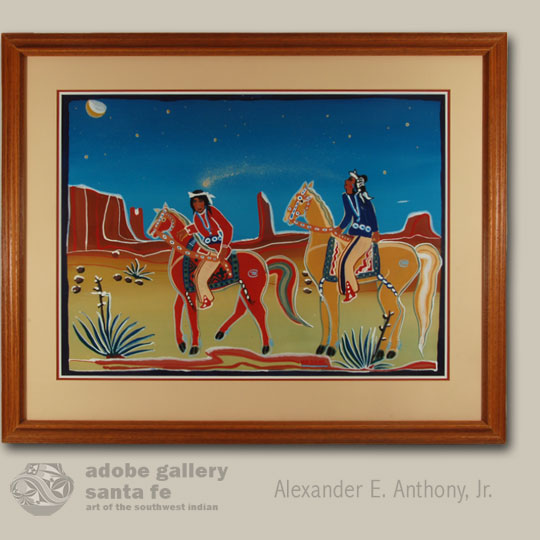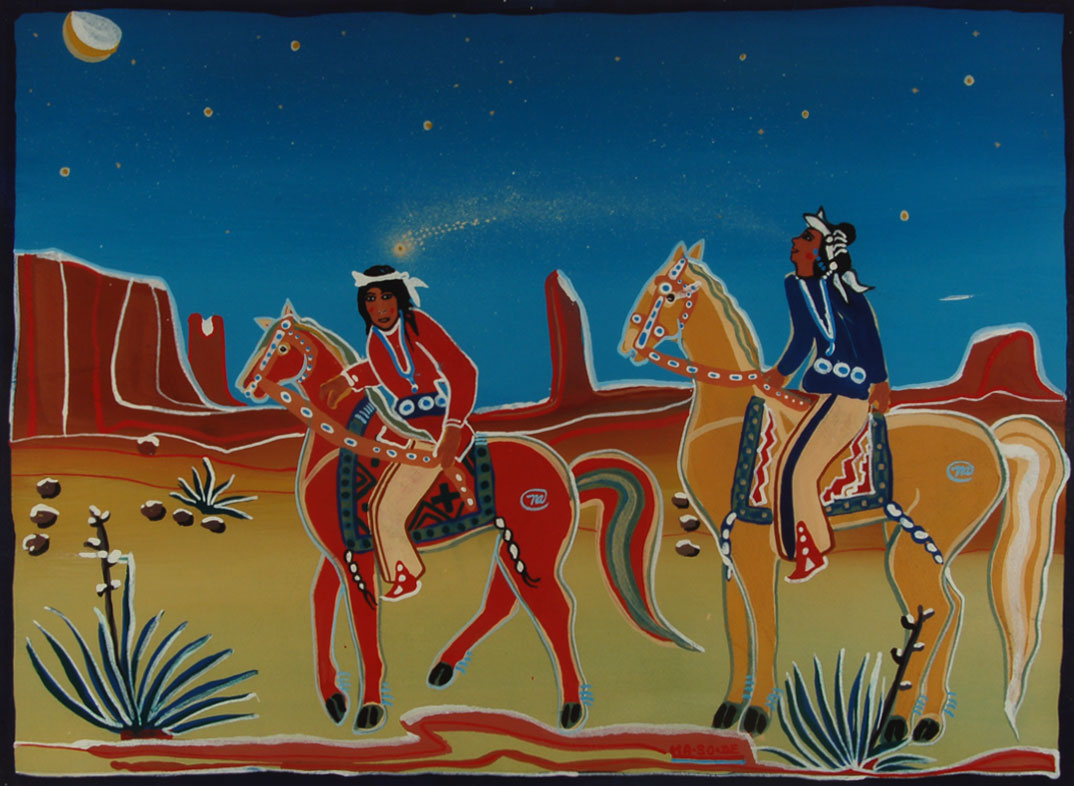 Click on image to view larger.
---
Adobe Gallery Recommended Reading

American Indian Painting of the Southwest and Plains Areas [SOLD]
by Dorothy Dunn (1903-1992)


Visions and Voices: Native American Painting from the Philbrook Museum of Art [Paperback Edition] [SOLD]
by Suzanne Abel-Vidor, et al