Ben Quintana (1923-1944) Há-ā-tee
---
+ Add Artist to My Preferences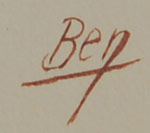 It was a real tragedy that Ben Quintana (Há-ā-tee ) of Cochiti Pueblo lost his life during World War II at only the age of 21 years. He was an outstanding artist and had a brilliant future in the art field. He was awarded the Silver Star posthumously for Gallantry in Action.
Clara Lee Tanner, in her book, said of him:"This sensitive artist neglected no small detail in his painting. Colors employed by (him) are soft and pleasing throughout, and his treatment is direct and honest...Cochiti's greatest contributions, in the field of Southwestern Indian art have certainly come through Tonita Peña and her son, J. H. Herrera. Both have done important work in carrying on the traditional pueblo style of presentation....Had Ben Quintana lived, unquestionably, he would have equaled these two." Reference: Southwest Indian Painting: A Changing Art by Clara Lee Tanner.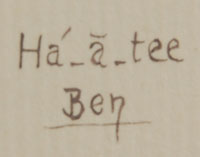 At the age of 15, Quintana won first prize over 80 contestants, of whom 7 were Indians, for a poster to be used in the Coronado Cuarto Centennial celebration. Later, he won first prize and $1000 in an
American Magazine contest in which there were 52,587 entries. As testimony to his interest, he used the prize money to further his art education.
** If you discover credit omissions or have additional information to add, please let us know at Marketing@adobegallery.com.