Christine Nofchissey McHorse, Diné of the Navajo Nation Potter
---
+ Add Artist to My Preferences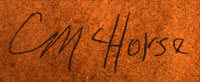 Quite simply put, Christine McHorse (1948-2021) Nofchissey was one of New Mexico's best-known (Diné) Navajo potters. Her unique vision developed out of the melding of three cultures-Navajo, Pueblo and Anglo. Her work earned her numerous awards and ribbons and garnered respect throughout the art world for the proud tradition of Navajo pottery.
"I am a hundred percent Navajo," she proudly proclaims, "but most of my life has been spent outside of the reservation. I was born on December 21, 1948, and raised in the Morenci-Clifton area of southeastern Arizona, where my father, Mark Nofchissey, worked in the copper mines. My summers were spent herding sheep with my grandmother in Croff Canyon [near Ganado]. In summer, I would live in Grandmother's hogan and learn the Navajo Way."
In 1966, Christine McHorse graduated from the Institute of American Indian Arts in Santa Fe and then took a year of post-graduate work there. Three years later, she married Joel McHorse, a Pueblo Indian from Taos.
Christine McHorse acquired her basic pottery skills from her husband's family in Taos. "Joe's grandmother, Lena Archuleta, taught me how to make the traditional pottery of Taos Pueblo." Lena worked with micaceous clay. Traditional Taos pottery is a simple, elegant vessel made from the area's readily available micaceous clay. It has thin walls that contain flecks of glistening mica and very few decorative elements.
Christine McHorse (1948-2021) fired her pottery in three different manners:
(1) the pure Navajo way in an open pit;
(2) The Anglo way in an electric kiln; and
(3) a hybrid system firing first in a kiln and then outdoors.
Christine McHorse had a resume that lists four pages of exhibitions, honors, and awards in this country, Germany, and Canada. She has won a ribbon at Santa Fe's prestigious Indian Market every year that she entered the judging since her initial admission in 1984. In 1992, a justifiably confident McHorse came to Indian Market with only two pots-both won blue ribbons in different categories.
Text Source: The People Speak: Navajo Folk Art by Chuck and Jan Rosenak, 1994
** If you discover credit omissions or have additional information to add, please let us know at Marketing adobegallery.com.
Relative Links: Navajo, pottery, Taos Pueblo, Navajo Folk Art-The People Speak