Gloria Garcia (1942- ) Golden Rod
---
+ Add Artist to My Preferences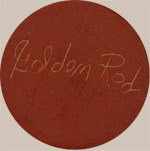 Golden Rod (Gloria Garcia) is a daughter of Petra Gutierrez and sister of Minnie Vigil, Lois Gutierrez and Thelma Talachy. The ancestral family home is Pojoaque Pueblo, but most now live at Santa Clara Pueblo. All of the siblings are outstanding potters and all are active today.
Goldenrod specializes in hand coiled and sgrafitto seed jars. Gloria gathers her raw clumps of clay, volcanic ash, and natural vegetation. She breaks down the clumps of clay and the volcanic ash into a fine powder form and hand mixes it with water to produce a fine medium, once that has been obtained Golden Rod begins rolling the clay out into long snake like coils and begins hand building her vessels, once the pottery has taken form it is set out to dry. When the pottery has dried Gloria sands each piece by hand to smooth out any rough edges. Golden Rod hand polishes and hand etches her designs without any stencils. Gloria's designs range in a wide variety of horses, buffalo, corn maidens, Avanyu, butterflies, rain clouds, deer, bears, bear paws, and redwing blackbirds. Goldenrod completes her masterpieces by a traditional outdoor firing. She signs her pottery as: Goldendrod.

Reference: Pueblo Indian Pottery: 750 Artist Biographies by Gregory Schaaf.

** If you discover credit omissions or have additional information to add, please let us know at Marketing@adobegallery.com