Grace Chino, Acoma Pueblo Pottery
---
+ Add Artist to My Preferences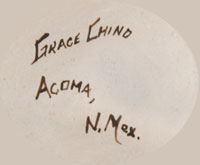 Acoma Pueblo artist Grace Chino was an exceptional potter. Her vessels were formed with consistent wall thickness and her designs were tailored to fit the shape of the vessel. She was a consistent ribbon winner at Santa Fe Indian Market from 1980 through 1993.
Grace Chino and her sisters, Carrie Chino Charlie, Vera Chino Ely and Rose Chino Garcia, are daughters of Marie Z. Chino and all of them are exceptional potters, as was their mother. Grace was a highly respected potter who made traditional Acoma pottery, using native clay, temper, slips, and paints. Grace's vessels were consistent in wall thickness and her designs were painted with utmost care.
Grace T. Chino (1929-1994) was one of the artists featured in Seven Families in Pueblo Pottery exhibit at the Maxwell Museum in Albuquerque in 1979 and in One Space, Three Visions exhibit at the Albuquerque Museum.
Reference: Southern Pueblo Pottery: 2,000 Artist Biographies by Gregory Schaaf.
Relative Links: Acoma Pueblo, Carrie Chino Charlie, Rose Chino Garcia, Marie Z. Chino, Sourthwest Indian Pottery