Helen Cordero, Cochiti Pueblo Potter
---
+ Add Artist to My Preferences
Everyone should know that Helen Cordero of Cochiti Pueblo made the very first storyteller pottery figurine in 1964. She created this first pottery figurine of an adult male with numerous children clinging to every part of him. This was the beginning of the "storyteller" figurine and was inspired by memories of her grandfather years earlier—a tribute to him—who was a storyteller at the pueblo.
Since the figurine was in tribute to her grandfather, all of her storyteller figurines are male. She never made a female storyteller. Her female figurines are called other names, such as Singing Mother. Cordero used to say that the other potters who made female storyteller figurines didn't understand her intent. However, Alexander Girard, the great folk art collector, did understand this significance of her efforts and encouraged her to create more by purchasing all she made in the early days.
Helen Cordero, who passed away on July 24, 1994, was truly an original artist. Unable to fashion pottery vessels in a manner with which she could be satisfied, she changed her course to figurative pottery, rather than give up altogether. Little did she know that she was starting a new tradition and changed the course in Pueblo pottery production. Now, all the Pueblos make storyteller figurines—not just Cochiti Pueblo. A storyteller made by her is to be a treasured item in any collection.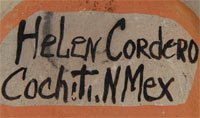 Helen Cordero (1915-1994) is the granddaughter of Santiago Quintana and Magdelena Quintana; daughter of Mr. Quintana and Caroline Quintana-Pecos; sister of Trinidad Herrera; wife of Fred Cordero; mother of Dolores Peshlakai, Jimmy Cordero, Antonita "Toni" Suina, George Cordero, Leonard Trujillo (adopted); grandmother of Buffy Cordero, Tim Cordero, Tia Cordero, Kevin Peshlakai, Ivan Trujillo, Evon Trujillo, Robert Trujillo, Jeanette Trujillo, Del Trancosa.
---
Reference: Southern Pueblo Pottery: 2,000 Artist Biographies by Gregory Schaaf.
TAGS: storyteller figurine, pottery, Cochiti Pueblo, Antonita "Toni" Suina, Buffy Cordero, Tim Cordero, Evon Trujillo