Juanita Inez Ortiz (1960 - 2008) Mapuwana - Wild Rose
---
+ Add Artist to My Preferences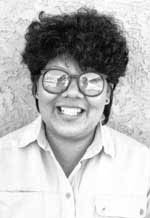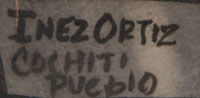 Cochiti Pueblo potter Juanita Inez Ortiz (1960 -2008) Mapuwana - Wild Rose learned pottery making from her mother, Seferina, and her grandmother, Laurencita Herrera. It is traditional for pueblo potters to teach their children the art of pottery making starting at an early age. Inez's siblings, all of whom are potters, are Virgil, Joyce, and Janice. Mother of Lisa Holt. She remained with traditional designs and shapes much like her mother and unlike that of Virgil and Lisa.
"I make all kinds of things: bears, nativity sets, miniatures, storyteller figurines, owls, turtles, and clay drums. I mold the 'couple' pieces [a man and woman together] in different sizes. I'm also into the ceramics to make some things easier. I go back to the traditional because people like it." - Inez Ortiz, (Dillingham 1994, page 127)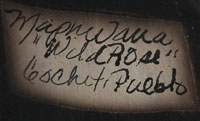 Photo (left) courtesy Fourteen Families In Pueblo Pottery, by Rick Dillingham.
Reference: Southern Pueblo Pottery: 2,000 Artist Biographies by Gregory Schaaf.
** If you discover credit omissions or have additional information to add, please let us know at Marketing@adobegallery.com.