Julián Martinez, San Ildefonso Pueblo Painter
---
+ Add Artist to My Preferences

Paintings by San Ildefonso Pueblo artist Julián Martinez are considered most rare, simply because he didn't have time very much to paint. In addition to "artist," Martinez listed his occupation as "farmer, laborer, janitor [for the Museum of New Mexico], and pottery designer, " (Lester, p. 343). He also served as Governor of San Ildefonso Pueblo. According to Snodgrass, Martinez had been painting since 1920 and had gone through several periods of 'realistic' paintings, but some of his more outstanding works were his abstract symbolic and geometric designs found on Maria's pottery.
Martinez' paintings were among those selected by Mary Jane Colter to decorate the La Fonda Hotel in Santa Fe, New Mexico. He received several commissions for murals, which can be seen at the Santa Fe Indian School; Mesa Verde National Park, Colorado (1935); and at the School of American Research in Santa Fe.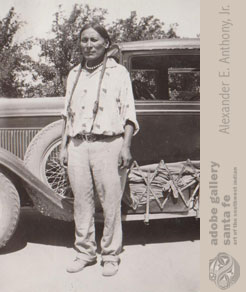 Martinez' paintings are in numerous public collections, including: Amon Carter Museum of Art, Fort Worth, Texas; Amerind Foundation, Dragoon, Arizona; Arizona State Museum, University of Arizona, Tucson, Arizona; Cincinnati Art Museum, Cincinnati, Ohio; Columbus Gallery of Fine Arts, Columbus, Ohio; Cleveland Museum of Art, Cleveland, Ohio; Denver Art Museum, Denver, Colorado; Dartmouth College Collection, Hanover, New Hampshire; Thomas Gilcrease Institute of American History and Art, Tulsa, Oklahoma; Joslyn Art Museum, Omaha, Nebraska; National Museum of the American Indian, Smithsonian Institution, Washington, D. C.; Owensboro Museum of Fine Art, Owensboro, Kentucky; Marion Koogler McNay Art Museum, San Antonio, Texas; Museum of Northern Arizona, Katherine Harvey Collection, Flagstaff, Arizona; American Museum of Natural History, New York, New York; Museum of New Mexico, Santa Fe, New Mexico; Millicent Rogers Museum, Taos, New Mexico; University of Oklahoma Fred Jones Jr. Museum of Art, Norman, Oklahoma; Riverside Museum, New York, New York; School for Advanced Research, Santa Fe, New Mexico; Southwest Museum, Los Angeles, California; University of Pennsylvania Museum, Philadelphia, Pennsylvania; and the Wheelwright Museum of the American Indian, Santa Fe, New Mexico.
Julián Martinez (1885-1943) Pocano - Coming of the Spirits was born in 1885 (source: Richard Spivey) in San Ildefonso Pueblo in New Mexico, and died on March 6, 1943 in San Ildefonso Pueblo. He is perhaps best known for the designs he painted on his wife's, Maria Martinez, famous pottery. Martinez had no formal art training. He was the father of Popovi Da, also a well-known Pueblo artist.
Photo of Julian Martinez copyright Adobe Gallery. Do not use without permission. Written on the back of the photograph:
San Ildefonso Pueblo, NM
Sun 8/23/31
Maria's husband stands beside our car. He was a good natured and a well-mannered fellow.
Mara is a famous pottery maker. Their work is much in demand.
I have 4 pieces.

REFERENCES:
Brody, J. J. Pueblo Indian Painting Tradition and Modernism in New Mexico, 1900-1930. Santa Fe, NM: School of American Research Press, 1997.
Lester, Patrick D. The Biographical Directory of Native American Painters. Tulsa, OK: SIR Publications, 1995.
Snodgrass, Jeanne O. American Indian Painters: A Biographical Directory. New York, NY: Museum of the American Indian, 1968.
Wyckoff, Lydia L., ed. Visions and Voices: Native American Painting from the Philbrook Museum of Art. Tulsa, OK: Philbrook Museum of Art, 1996.
TAGS: San Ildefonso Pueblo, Maria Martinez, Popovi Da, pottery, paintings