Laurencita R. Herrera (1912–1984)
---
+ Add Artist to My Preferences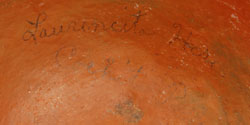 Laurencita R. Herrera, Cochiti Pueblo, was a long-time favorite artisan by pottery collectors. She always produced excellent pottery during her productive years. She was the mother of Seferina Ortiz and Mary Frances Herrera along with seven other children. These two sisters are well known to pottery collectors and have outstanding reputations. Laurencita was also the Grandmother of Inez Ortiz. She usually signed her pottery as L. R. Herrera.
In 1979, The Albuquerque Museum opened an exhibit entitled One Space/Three Visions which was an exhibit of the three cultures of New Mexico—Native American, Hispanic, and European American. Selected were 286 artists in all mediums—textiles, pottery, jewelry, furniture, wood carvings, and tinwork. Of these, 193 were Native American artists with 361 items in the exhibit. Cochiti Pueblo was represented by several potters—Helen Cordero, Aurelia Suina, Ada Suina, Teresita Romero, Seferina Ortiz, Stephanita Herrera, Juanita Arquero and Laurencita Herrera. It was recognition of their talent to have been selected.
Laurencita Herrera at the time was in her 60s and well established as a potter of note. She made storyteller figurines and vessels and was considered an artist whose works were to be collected.
Image source of Laurencita R. Herrera courtesy of Rick Dillingham in Fourteen Families In Pueblo Pottery.
** If you discover credit omissions or have additional information to add, please let us know at Marketing@adobegallery.com