Lorencita Pino (1899-1986)
---
+ Add Artist to My Preferences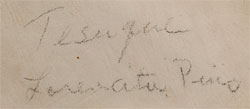 When Duane Anderson was gathering data for his book, When Rain Gods Reigned: From Curios to Art at Tesuque Pueblo, he spoke with a number of potters and many of them related what they knew about the early potters at Tesuque Pueblo. One of the interesting and funny comments was from the daughters of Ignacia Duran. To quote from Anderson:
"They told me that in the early 1930s Osalla Padilla, Lorencita Pino, Anastasia Herrera Pino and Marie E. Herrera went from house to house making rain gods. Each individual made sets of legs, arms, bodies, and heads and then assembled about 100 of them. After they dried, the group would make the rounds again and paint the ones they had made earlier. This appears to be the closest the artists ever came to mass-producing rain gods. Lorencita was said to have been the fastest maker, followed by Anastasia Pino."
This account helps us somewhat establish the period of production of Lorencita Pino. If she was productive and good at making pottery in the early 1930s, then she must have been born around 1910. Records indicate that she placed an entry in the 1979 Santa Fe Indian Market and was awarded First Place for the entry.
** If you discover credit omissions or have additional information to add, please let us know at Marketing@adobegallery.com.