Margaret Tafoya, Santa Clara Pueblo Potter
---
+ Add Artist to My Preferences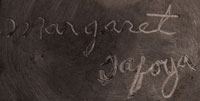 Margaret Tafoya was considered a master of the art of Santa Clara Pueblo pottery making and made deeply carved blackware and redware vessels which are highly valued by collectors. She was the last of the matriarchs of the early 20th century pueblo potters and well-known for her polished blackware pottery with bear paw designs - a good luck symbol.
Margaret Tafoya (1904 - 2001) Maria Margarita Tafoya - Corn Blossom was born August 13, 1904 at Santa Clara Pueblo, Margaret learned her skills from her parents, Sara Fina Gutierrez Tafoya and Jose Geronimo Tafoya, who were expert potters; some of her pieces are inspired by tales she heard from her parents and grandparents. Margaret and her mother were known for their ability to make unusually large storage jars and water jars. She was married to husband Alcario Tafoya (1900 - 1995).
She believed the secret to her technique were her polishing stones, which have been passed down through the generations. She taught her children (nine kids in total) her pottery-making skills to include: Virginia Ebelacker, Mela Youngblood, Toni Roller, LuAnn Tafoya, and Esther Archuleta.
A National Heritage Fellow, National Endowment for the Arts Folk Arts Program (1984). In 1985, Margaret Tafoya was one of three New Mexicans selected to receive the Governor's Award, New Mexico's highest artistic honor, awarded for a major contribution to the arts of New Mexico.
Reference of Tafoya Family tree and biographical information: Family Tree 1, page 137 of Pueblo Indian Pottery: 750 Artist Biographies by Gregory Schaaf.
TAGS: Santa Clara Pueblo, Southwest Indian Pottery, Sara Fina Gutierrez Tafoya, Virginia Ebelacker, Mela Youngblood, Toni Roller, LuAnn Tafoya