Maria and Santana Martinez
---
+ Add Artist to My Preferences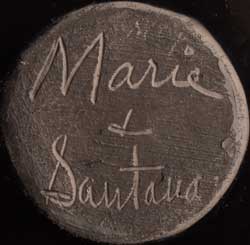 Following the death of Julián, Maria Martinez's her son Adam and daughter-in-law Santana painted designs on the famous pueblo matriarch's pottery. Not only did they help in pottery design they also assisted in the firing of her pottery. Pieces made between 1943 and 1954 are signed Marie + Santana.
San Ildefonso Pueblo artist Maria Martinez (1887-1980) Poveka is probably the most famous of all pueblo potters. She and her husband Julian discovered in 1918 how to produce the now-famous Black-on-black pottery, and they spent the remainder of their careers perfecting and producing it for museums and collectors worldwide.
Though best known for her work with the famous family into which she married, Santana (1909-2002) came from a long line of talented painters and potters. Her grandmother, Dominguita Pino Martinez (1860-1948), was a famous potter and her brother, Alfonso Roybal (1898-1955) Awa Tsireh (Cat-tail Bird) , was a famous painter.
TAGS: Santana, San Ildefonso Pueblo, Maria Martinez, Julian Martinez, Southwest Indian Pottery, Santana and Adam Martinez, Dominguita Pino Martinez, Awa Tsireh