Marlin Pinto (1957- )
---
+ Add Artist to My Preferences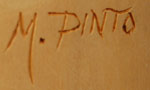 Marlin Pinto is a Hopi who was born at Zuni Pueblo. His mother is Shirley Ben, his grandmother was Daisey Hooee Nampeyo, and his great grandmother was Annie Healing Nampeyo, which makes his great great grandmother Nampeyo of Hano. Marlin started carving when he was only eleven years old and quickly became famous for his exquisite miniature katsina doll carvings. Later, he became even more famous for his truly outstanding larger one-piece katsina doll carvings.
Marlin is a self-taught carver. He watched his uncle, famous Hopi painter, Raymond Naha, who occasionally carved in between painting sessions. He picked up the technique by watching Naha. In carving the one-piece katsina dolls, Marlin uses only a pocket knife. He has no power tools. He feels that the pocket knife reveals a more natural look to the one-piece carvings. He spends about a month completing a larger doll.
** If you discover credit omissions or have additional information to add, please let us know at Marketing@adobegallery.com.