Pablita Velarde, Santa Clara Pueblo Painter
---
+ Add Artist to My Preferences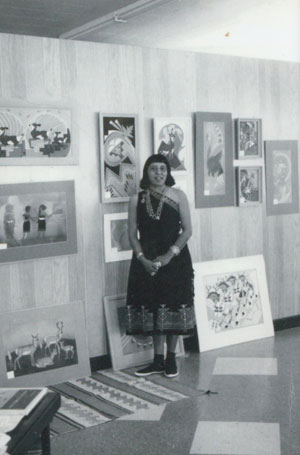 Pablita Velarde was best known for her earth paintings, where she used mineral and rock elements, which she ground on a metate and mano until the result was a powdery substance from which she made her paints. She painted almost exclusively on paper supports, and used watercolor and casein in addition to the earth pigments.

Pablita Velarde (1918-2006) Tse Tsan - Golden Dawn was well known to Indian art collectors for several decades. She was born in 1918 at Santa Clara Pueblo and was active up until her death in January, 2006. She was the first full-time female student in Dorothy Dunn's art class at the Santa Fe Indian School (The Studio); she also studied with Tonita Peña. She painted in the "traditional" style of Santa Fe and did accurate portraits of Native American life and culture. At first she worked in watercolor, but later learned how to prepare paints from natural pigments (a process called Fresco secco).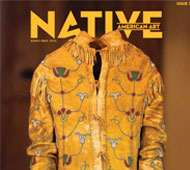 Pablita Velarde painted a series of paintings for Bandelier National Monument in New Mexico (1939-1948). Following the forest fire in 2011, the paintings have been put in storage for their protection. She was also known to create art derived from the Navajo sandpainting tradition. Clara Tanner called her the "greatest woman artist in the Southwest". Her daughter, Helen Hardin, was also quite well known.
Photo of Pablita Velarde (1918-2006) Tse Tsan - Golden Dawn. Image Source: the photo copies (of original polaroids of Pablita Velarde appear courtesy of the person who actually took the photograph.
TAGS: Native American Paintings, Santa Clara Pueblo, Tonita Peña, watercolor, Helen Hardin, Navajo Nation