Percy Sandy, Zuni Pueblo Painter
---
+ Add Artist to My Preferences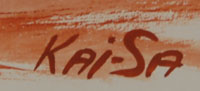 Zuni Pueblo artist Percy Sandy was known for his paintings which depicted traditional ceremonies and life in the pueblo villages. His style could be seen as loose and natural certainly because of his experience as an artist. He often chose bright colors, and balanced them out by using a wispy, nearly translucent application.
Percy Tsisete Sandy (1918-1974) Kai-Sa - Red Moon was also influenced by other Native American artists such as Taos Pueblo artist Pop Chalee. He has used Hopi and Rio Grande Puebloan styles as well as Navajo (Diné) and even Apache.
Percy Sandy attended elementary and secondary schools of the village of Zuni, then went on to Santa Fe to take a year's postgraduate work in art at the Indian School. Kai-Sa was surely influenced while at the Indian School in Santa Fe, whether by other Native American student artists he encountered there or by their paintings he saw there.
Kai-Sa was born at Zuni Pueblo in 1918. He later moved from Zuni to Taos Pueblo, due to internal conflicts connected to his depiction of sensitive religious subjects. He died in Taos in 1974.
Relative Links: Zuni Pueblo, Taos, Diné of the Navajo Nation, Native American Paintings, Pop Chalee Hopi Pueblo, Apache