Teresita Naranjo, Santa Clara Pueblo Pottery
---
+ Add Artist to My Preferences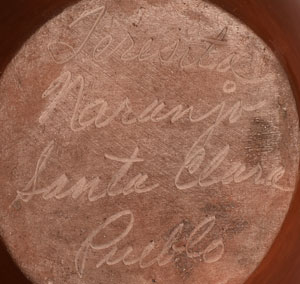 Teresita Naranjo has been acknowledged as one of the finest 20th century potters at Santa Clara Pueblo. She was a master potter—one of the finest of her pueblo and was active from 1935 to 1999. She was known for her intricately carved blackware and redware in the Santa Clara style.
She was born in 1919 and passed away on January 2, 1999 at her home at Santa Clara Pueblo. Her unexpected death was a loss to all pottery collectors.
Teresita Tafoya Naranjo (1919-1999) Apple Blossom - Bay-Po-Vi was the daughter of Victor and Christina Naranjo and wife of Joe Naranjo, mother to Stella Tafoya Chavarria, niece to Margaret Tafoya, and the granddaughter of Sara Fina Tafoya. After her husband's passing in 1950, she supported her family solely through sales of her pottery.
It was always a pleasure to visit with Teresita Naranjo at her home at the pueblo. She was a charming woman and an astute businessperson. One did not bargain with her prices but paid what she asked or left without any pottery. She was pleasant to deal with and to visit with. It is rare to see any of her red pottery. -AL Anthony
Reference and Recommended Reading: Pueblo Indian Pottery: 750 Artist Biographies by Gregory Schaaf
Images of Teresita Tafoya Naranjo (1919-1999) Apple Blossom - Bay-Po-Vi. Source: original photographs.
TAGS: Santa Clara Pueblo, Christina Naranjo, Stella Tafoya Chavarria, Margaret Tafoya, Sara Fina Tafoya, Pueblo Pottery