Persingula M. Casquito
---
+ Add Artist to My Preferences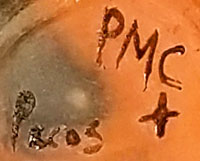 Today, Pecos Pueblo is a National Monument located southeast of Santa Fe. When Coronado's expedition first visited Pecos Pueblo—then known as Cicuique— it had a robust population of more than 2,000 inhabitants. At the time of Coronado's Spanish entrada into New Mexico in 1540, there were more than 100 pueblos along the Rio Grande from Taos to south of Isleta Pueblo. By the 1830s, ravaged by disease, specifically smallpox, the number had dwindled to 20. As with other indigenous villages, the population of Cicuique began to dwindle after the arrival of the Spanish.
During this time, when the population of a pueblo began to decline, the ability of the people to continue to perform essential religious practices and observances also diminished. As the number of Cicuique's residents decreased, many inhabitants chose to move west to Keres villages along the Rio Grande and Hispanic villages in the Pecos Valley. Finally, by the 1830s only 30-40 people were left and they went to live with their Towa linguistic cousins at Jemez Pueblo.
To this day, the descendants of those who moved to Jemez in 1838 continue to commemorate their ancestors in ceremonies and legend. In the 1970s, several potters whose forebears had migrated to Jemez from Cicuique began to re-create pottery that had been made there from 1250 AD to the early 1700s.
Evelyn Vigil and her sister Persingula M. Casquito began to research clays, slips and firing processes and, with the assistance of archeologists from the Living History program at Pecos National Monument, produced a modern version of Pecos Glazeware.