Acoma Pueblo Wedding Vase with Bird Design by Jessie Garcia - C4137B
Category:
Pottery
| Posted by |
Mon, Nov 5th 2018, 3:39pm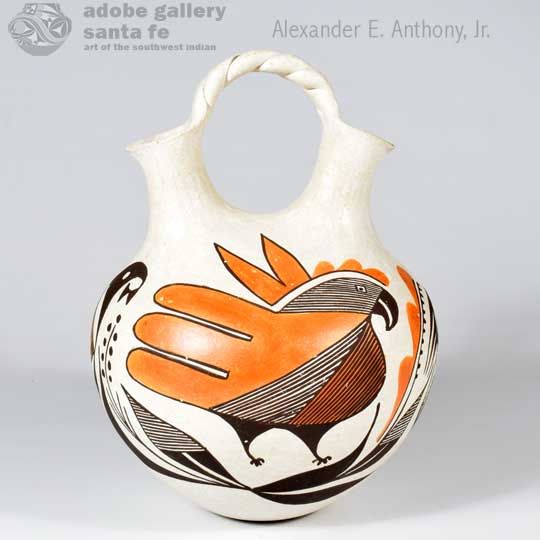 Jessie Garcia took the Acoma parrot to a new level in this wedding vessel. The outline of the bird is more artsy than most parrots by other artists. Her use of fine lines in three areas of the bird's body adds a degree of sophistication not seen in other potter's birds. The birds on the sides of the vessel are also creatively unique.
Jessie Garcia was considered by Rick Dillingham (author of Acoma & Laguna Pottery-see link below) as one of the three most important 20th century potters from Acoma Pueblo, along with Lucy Lewis and Marie Z. Chino. She was the mother of Anita Lowden and Stella Shutiva and the mother-in-law of Sarah Garcia, all three of whom are recognized as outstanding potters. In 1941, Museum of New Mexico director Kenneth Chapman donated a Jessie Garcia seed jar to the Indian Arts Fund. The Indian Arts Fund purchased a Jessie Garcia bowl from Mrs. William J. Lippincott, and then, in 1966, the Indian Arts Fund made a direct purchase of a bowl from Jessie at Santa Fe Indian Market. These acquisitions indicate the esteem that the Indian Arts Fund had for the work of this potter.

#adobegallery #SouthwestIndianPottery #AcomaPueblo #AcomaPottery #PuebloPottery #SouthwestIndianArt #SantaFePottery #FinePuebloPottery #ContemporaryPottery