Apache Artist Frank Paul Vigil's Painting of Two Horses - C4056F
Category:
Paintings
| Posted by |
Mon, Apr 23rd 2018, 3:53pm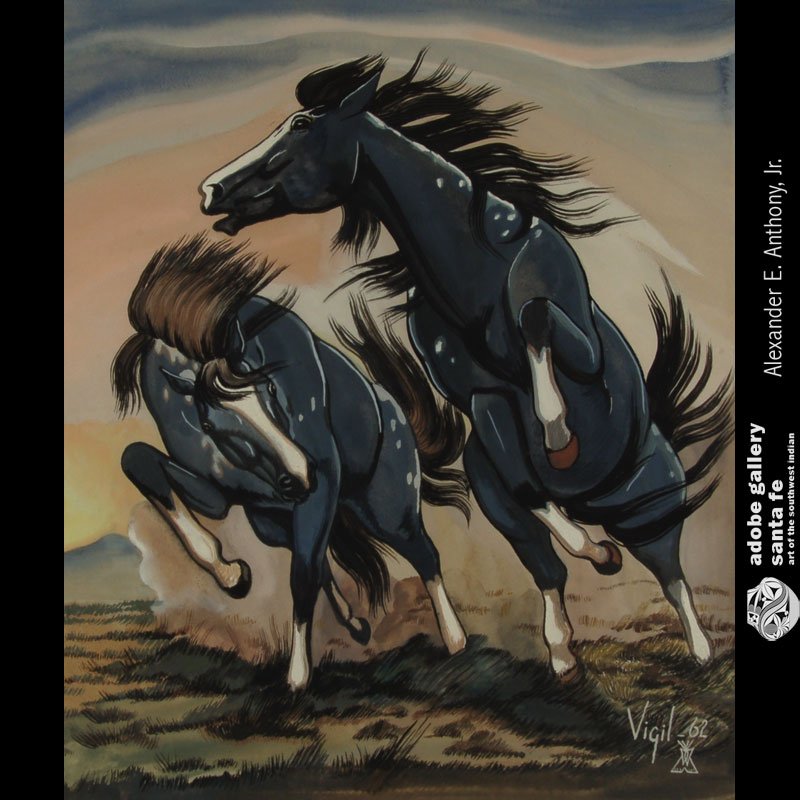 Frank Paul Vigil was born in 1922 on the Jicarilla Apache reservation which is located in Northwestern New Mexico. He grew up surrounded by animals, both domestic and wild. As a child he was fascinated by these animals and began to draw them as he saw them, in active motion as well as at rest. He was a self-taught artist who drew the animals around him that were important to him--horses, elk and deer. He was a hunter and an outdoorsman and his paintings reflect his intimate knowledge of animals.
As an adult, Vigil married a Jemez woman and lived at her Pueblo. He served in the US Army during World War II. His artwork has been exhibited widely at the Gallup Intertribal Ceremonials, and the Philbrook in Tulsa, Oklahoma. He was best known for his paintings of traditional Apache images such as Crown Dancers as well as his action filled depictions of galloping horses.

#adobegallery #SouthwestIndianPainting #NativeAmericanPainting #Jicarilla #Apache #PuebloPaintings #SantaFeNM #FineArt #Painting #FrankVigil