Black on Black Seed Jar with Sienna Medallions by Grace Medicine Flower - C4122B
Category:
Pottery
| Posted by |
Thu, Sep 20th 2018, 3:08pm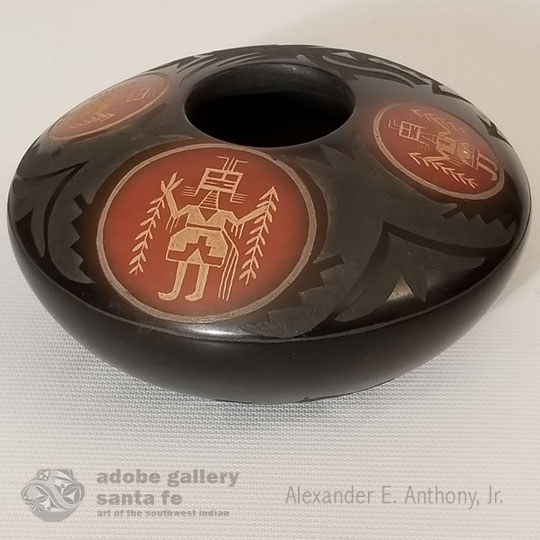 Grace Medicine Flower and her father, Camilio Tafoya, collaborated on pottery for a number of years. Grace says she actually started working with her dad when she was just a child. She started making very traditional Santa Clara Pueblo carved ware but eventually developed her contemporary style of sgraffito carving. Camilio, too, started with traditional carved ware but specialized in very large pieces.

This small seed jar is typical of the style Grace and Camilio made in the 1970s and 1980s. It is one of their most sought-after styles. The body of the vessel is a very highly polished black. The matte black design is just slightly carved into the clay body. The three sienna medallions each feature a Navajo reigious Yei figure of the Diné. The matte design on the top surface is a stylized Avanyu water serpent.

#adobegallery #SouthwestIndianPottery #SantaClaraPueblo #SantaClaraPottery #PuebloPottery #SouthwestIndianArt #SantaFePottery #FinePuebloPottery #ContemporaryPottery #GraceMedicineFlower