Historic Hopi Polacca Polychrome Bowl with Hanging Lug - C4104E
Category:
Pottery
| Posted by |
Tue, Aug 28th 2018, 2:47pm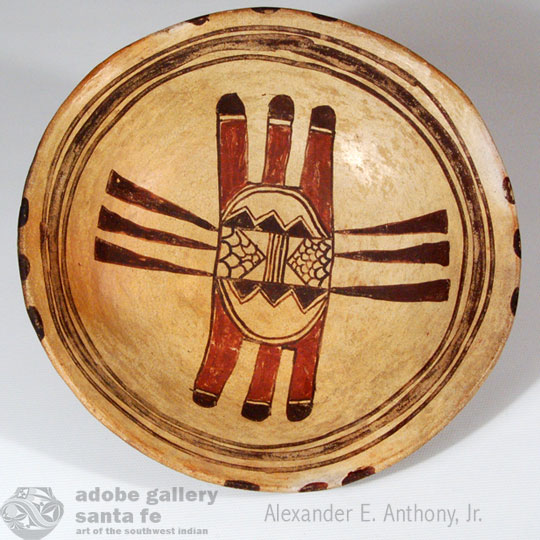 The Hopi call their ancestors Hisatsinam, "People of Long Ago." Most others refer to them as Anasazi. The Hopi ancestors were making pottery as long ago as A.D. 700. They made black-on-white, black-on-red, and, eventually, Polychrome. The Polychrome wares started around 1740, became the predominant utilitarian style around 1800, and continued being used until the 1890s, being known as Polacca Polychrome.
Collectors developed an interest in pottery from the Hopi Mesas in the late 1800s, resulting in a revival period for Hopi pottery, spearheaded by Nampeyo and other First Mesa potters. Early pottery of this period by Nampeyo was in the Polacca Polychrome style, prior to her revival of Sikyatki-inspired pottery.
This Polacca Polychrome bowl is most certainly one made in the 1890s as an item intended for sale. It has a lug on the back side from which it can be hung on a wall, something for which a Hopi would have no use. The design features elements of rain, rain clouds, and tail feathers.

#adobegallery #SouthwestIndianPottery #HopiPueblo #HopiPottery #PuebloPottery #SouthwestIndianArt #FinePuebloPottery #HistoricPottery #IndianMarket#sfim2018