Historic Isleta Pueblo Polychrome Small Serving Bowl - C3924S
Category:
Pottery
| Posted by |
Fri, May 25th 2018, 2:52pm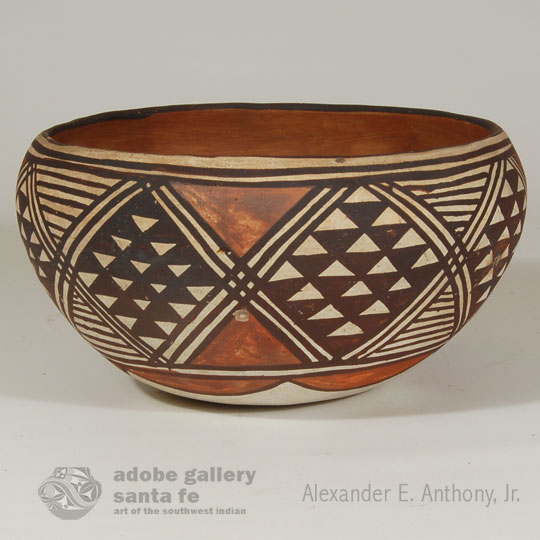 This bowl is typical of Isleta Polychrome pottery from 1880 to the present. At that time, Isleta potters learned new techniques and new designs to replace the traditional orange wares that were devoid of design. The poor quality red clay at Isleta was not suitable for making high-quality thin-walled pottery. Pottery from Isleta of that time is not in large quantity in any museum collection because it was not considered worthy of such. When one looks at it today, however, it is amazingly beautiful in its color purity and simplicity.
The change occurred in 1880 when a large group of Laguna Pueblo Indians permanently moved and set up a village near Isleta which they named Oraibi. The massive move was a result of a dispute within Laguna. The Laguna women were makers of polychrome pottery and they took the techniques and designs with them. Not only were the designs and colors attractive to potters at Isleta, the Laguna potters knew how to use proper temper to achieve strong and thin walls. Eventually, the Laguna style became the Isleta style and Laguna designs still appear today on pottery from Isleta.

#adobegallery #SouthwestIndianPottery #IsletaPueblo #IsletaPottery #PuebloPottery #SouthwestIndianArt #SantaFePottery #FinePuebloPottery #HistoricPottery