Historic Zuni Pueblo Small White on Red Olla - C4068N
Category:
Pottery
| Posted by |
Fri, Aug 10th 2018, 12:25pm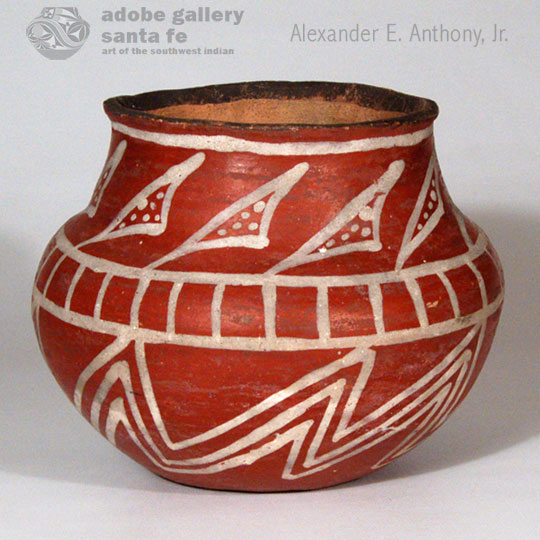 According to published information, Zuni potters experimented with putting red slip on pottery, rather than the standard cream slip, and painting the design with white slip, rather than the black normally used on Zuni Polychrome wares. This anomaly existed during the period designated as Zuni Polychrome, however, it was short-lived, lasting only from 1890 to 1920.
There is no published information stating why the White-on-red period ended in the 1920s. Speculation is that the newly-arrived trader at Zuni, C. G. Wallace, perhaps discouraged production of White-on-red in favor of the potters sticking to the traditional Zuni Polychrome style because he believed Polychrome wares would sell better. He was the primary, if not the sole, outlet for Zuni wares in the 1920s.
This White-on-red jar is smaller than others we have had in the past and those we currently have on our site, which makes it quite unique. The white slip was expertly applied in a thick coat on an equally thick coat of red slip. There is no weakness in the application. The red slip extends to the bottom of the vessel, Normally, Zuni jars have a brown lower body but not when jars are slipped in red. The rim is dark brown, the only brown on the jar.

#adobegallery #SouthwestIndianPottery #ZuniPueblo #ZuniPottery #PuebloPottery #SouthwestIndianArt #FinePuebloPottery #HistoricPottery #IndianMarket #sfim2018 #NativeAmericanArts