Hopi Pueblo Elaborately Designed Polychrome Jar by Rondina Huma - C4052F
Category:
Pottery
| Posted by |
Mon, May 7th 2018, 4:22pm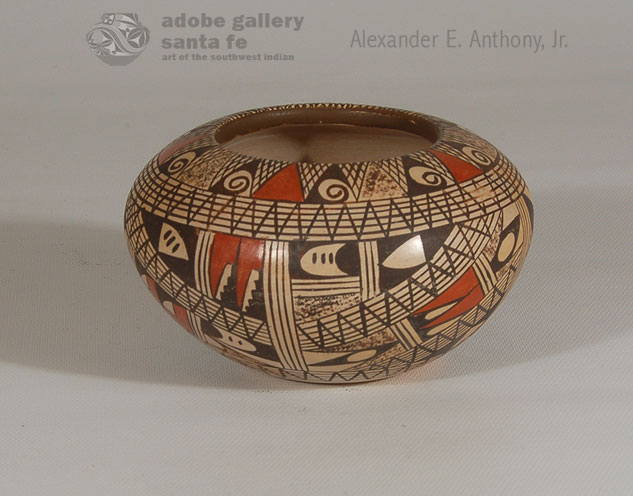 Rondina Huma's intricately designed pottery has been one of the most sought-after for over a decade. She has been featured in many publications and her work is represented in major galleries and museums throughout the country. There is no mystery as to why she has won many awards over the years for her exquisite work. She deserves every accolade bestowed on her. Her pottery is traditional in every manner. She hand coils all the vessels and uses only vegetal and mineral paints. Traditional firing is carried out as well. It is reported that she no longer can make pottery due to sight problems, a great loss to collectors.
This small jar is as magnificent as her larger works. It is filled with designs throughout its entire surface.

#adobegallery #SouthwestIndianPottery #SanIldefonsoPueblo #PuebloPottery #SantaFePottery #FinePuebloPottery #SantaFeNM #ContemporaryPottery #RondinaHuma