Hopi Pueblo Polychrome Jar with Unusual Design by Nampeyo of Hano - C4047i
Category:
Pottery
| Posted by |
Mon, Mar 26th 2018, 7:51pm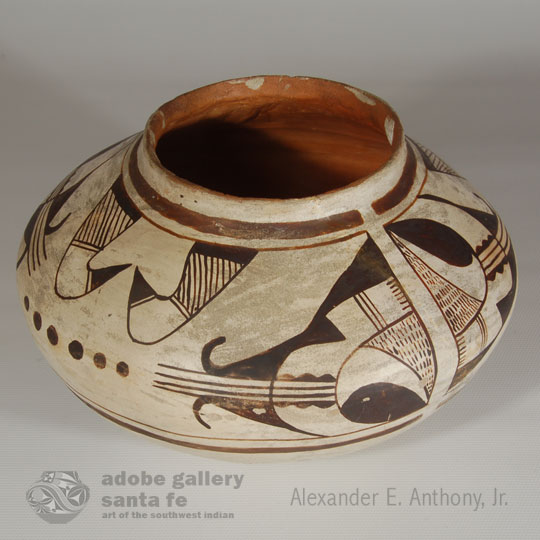 Nampeyo of Hano (1857-1942) is associated by most collectors as a potter who reintroduced Sikyatki pottery designs. That is accurate, but Nampeyo also was a genius at creating her own designs before she began with the Sikyatki ones. This jar, probably circa 1900, is an excellent example of a jar by Nampeyo with designs by Nampeyo. Here, she created a large design, split vertically into two similar sections. The long curved "arm" with multiple lines at the end is probably a weaving comb, not an arm with too many fingers. The triangles with rows of short parallel lines might possibly represent corn fields. The pair of designs pendant from the framing line just below the rim, perhaps are birds or perhaps are just designs that have no definition. The unusual design is the row of six dots. Marti Struever stated that it was a "rare design of dots."
The design was executed in brown pigment on white slip. The rim appears to have been painted orange as an extension of the orange slip on the interior. The design is divided by a ceremonial line break that penetrates the framing lines and the design. The white color on the rim interior may appear to be a rim chip but it is a spot of white slip.
To purchase or read more click here..
#adobegallery #SouthwestIndianPottery #HopiPueblo #PuebloPottery #SouthwestIndianArt #SantaFePottery #FinePuebloPottery #Historic #NampeyoofHano