Nampeyo of Hano, Hopi-Tewa Potter and Matriarch
---
+ Add Artist to My Preferences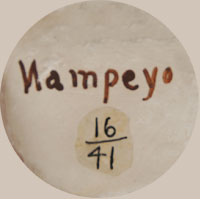 Nampeyo of Hano was a widely influential potter who lived and worked on the Hopi Reservation in Arizona. Nampeyo is regarded today as one of the finest Hopi Potters and one of the most important figures in Native American Pottery. Her work is displayed in museums and collections around the world. Little, if any, of her pottery is signed, but her work has been published and documented in detail and is easily identifiable to collectors.

Nampeyo of Hano (1857-1942) was taught how to make pottery by her grandmother, and began earning an income as a potter while she was still just a teenager. Less interested in innovation than perfection, Nampeyo took an early interest in the design and form of ancient Hopi pottery, which she believed to be superior to the pottery being created by her contemporaries. She visited the ruins of ancient villages and copied designs from pieces of prehistoric and protohistoric pottery onto paper, then reproduced the designs on her own vessels.

Nampeyo had five children: Fannie Polacca Nampeyo, Wesley Lesso, Nellie Nampeyo Douma, William Lesso, and Annie Healing Nampeyo.
Note: Nampeyo's birth date has been stated to be either 1857 or 1858 by noted photographer W. H. Jackson who photographed her in 1875. At the time, he said she was 17 or 18 years of age. (Plateau, A Quarterly. October 1951, Volume 24, Number 2, page 92).
TAGS: Hopi Pueblo, Fannie Polacca Nampeyo, Nellie Nampeyo Douma, Annie Healing Nampeyo