Hopi Pueblo Seed Jar with Whirling Log Design by Nampeyo of Hano - C3944
Category:
Pottery
| Posted by |
Fri, Jul 14th 2017, 3:15pm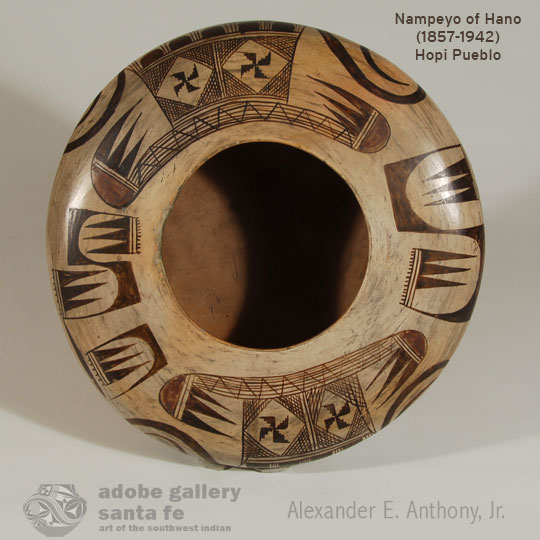 Nampeyo was an artistic genius. She was a Hopi-Tewa living at First Mesa who was going about her duties as a mother and wife, taking care of children, meals and making pottery for use in her home. Her talents in making pottery were early recognized by trader Thomas Keam, who, when he needed someone to make pottery for his business, chose Nampeyo. He recognized her as the best potter at Hopi.
When one looks at this jar, there is no question that she was a great artist. It must qualify as one of the most creative and beautiful jars of the time. One can feel Nampeyo's presence when rubbing the inside of the rim of the jar where her hands formed the nearly flat top. There are probably fingerprints inside the rim.
Would you like to purchase or read more about this Hopi Pueblo pottery?