Hopi Small Jar with Sloping Shoulder, circa 1880 by Nampeyo of Hano - C4047H
Category:
Pottery
| Posted by |
Fri, Mar 23rd 2018, 3:28pm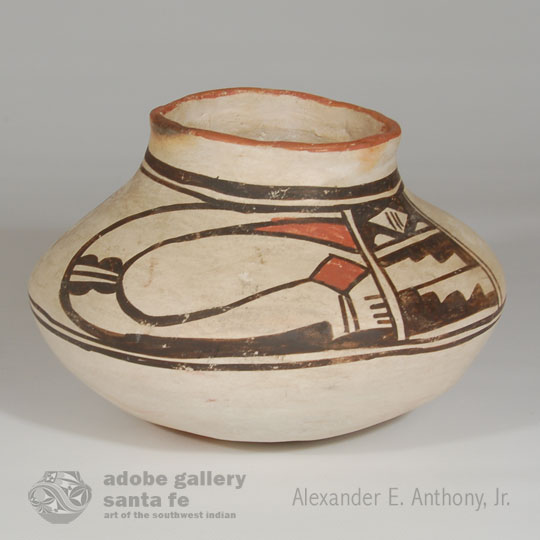 This historic small jar is one of Nampeyo's white-slip creations. These early jars by Nampeyo are often simple in design, as is this one. It is such simplicity that makes it so appealing. The thick framing line at the neck and the pair of thinner framing lines at the midpoint of the jar define the area of design. The long thin swirl lines on the slope of the neck are very typical of a design which Nampeyo continued to use later. The very minimum red slip in the design is indicative of her early work. The rim is red. The jar would date to 1880 or so.
To purchase or read more click here.
#adobegallery #SouthwestIndianPottery #HopiPueblo #PuebloPottery #SantaFePottery #FinePuebloPottery #SantaFeNM # NampeyoOfHano