Hopi-Tewa Pueblo Black on Red Small Bowl - C4078J
Category:
Pottery
| Posted by |
Mon, Jul 2nd 2018, 5:27pm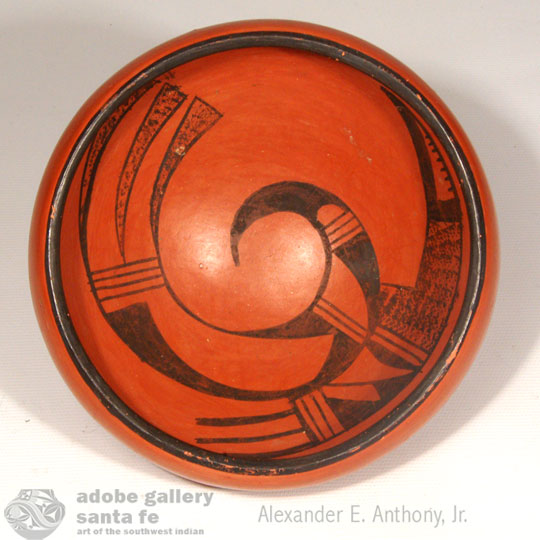 In the early 1900s, both Nampeyo and her daughter, Annie, made black-on-red pottery. Annie is credited with outlining some of the design with white occasionally. How many other potters made similar styles is not known. Examples have been documented by Evelyn Poolheco, Sadie Adams, Emogene Lomakema, Nellie Nampeyo, Lena Chino Charlie, and other contemporary potters, so it is difficult to make an attribution when one is not signed. This small bowl has the name Paquawritten in pencil but it is doubtful that it was written by the potter but most likely some someone making an attribution. Paqua, of course, was the first Frog Woman.

#adobegallery #SouthwestIndianPottery #HopiPueblo #HopiPottery #PuebloPottery #SouthwestIndianArt #SantaFePottery #FinePuebloPottery #ContemporaryPottery