Hopi Wakas - Cow Katsina Doll with Fred Harvey Tag - C4045B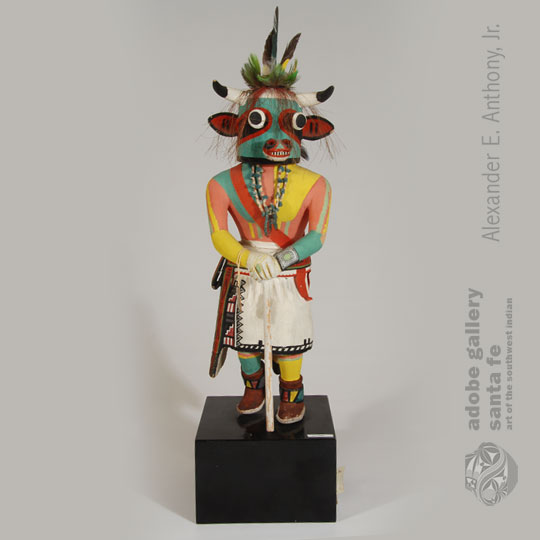 The Fred Harvey Company was the owner of the Harvey House chain of restaurants, hotels, gift shops and other hospitality industry businesses alongside railroads in the western United States. It was founded in 1876 by Fred Harvey to cater to the growing number of train passengers. When Harvey died in 1901, his family inherited 45 restaurants and 20 dining cars in 12 states.
For the Southwest, Harvey hired architects Charles Whittlesey and designer Mary Colter for influential landmark hotels in Santa Fe and Gallup, New Mexico. The Grand Canyon was the Santa Fe's main tourist destination and a major activity of the Harvey Company. Colter's rugged, landscape-integrated, and culturally appropriate design principles there influenced a generation of subsequent Western U.S. architecture through the National Park Service and Civilian Conservation Corps structures built during the Great Depression and after.
To purchase or read more - Click here..
#adobegallery #HopiPueblo #Katsina #Kachina #Doll #SouthwestIndianArt #PuebloArt #SantaFeNM