Kewa - Santo Domingo Pueblo Historic Large Dough Bowl - C4119A
Category:
Pottery
| Posted by |
Wed, Sep 26th 2018, 10:23am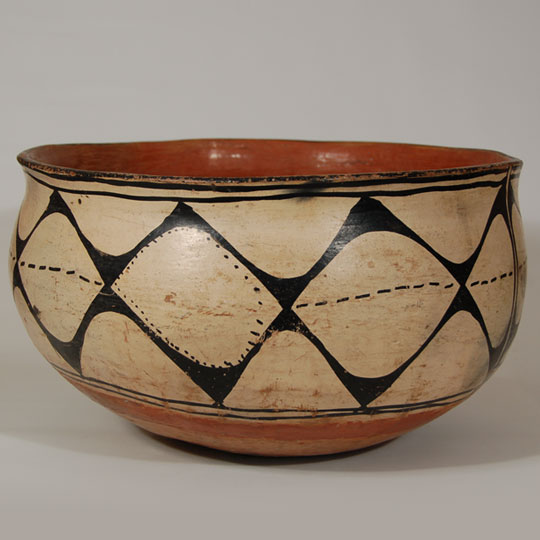 Well-crafted and beautifully-decorated pottery has always been part of the pueblo aesthetic. It was not until the late 19th century that potters started adhering to the unfamiliar tastes of the Western eye. It was of necessity to do this in order to make a sale. This has not changed even today. Potters produce what they know will sell to the non-Indian market.
This dough bowl, however, speaks loudly of the pueblo aesthetic. It was made for, designed by and used by a pueblo potter. It was made in the vessel shape that was needed for a particular use and designed with a traditional Kewa Pueblo design which could have been passed down in the same family of potters for decades. It is because of these reasons that this bowl becomes such a collectible treasure. It was beautifully shaped and expertly painted. It is possible that it may have been used for several decades before leaving the pueblo.

#adobegallery #SouthwestIndianPottery #KewaPueblo #KewaPottery #SantoDomingoPueblo #PuebloPottery #FinePuebloPottery #HistoricPottery