Most Unusual Hopi Pueblo Jar by Nampeyo of Hano - C3942B
Category:
Pottery
| Posted by |
Fri, Jul 21st 2017, 1:33pm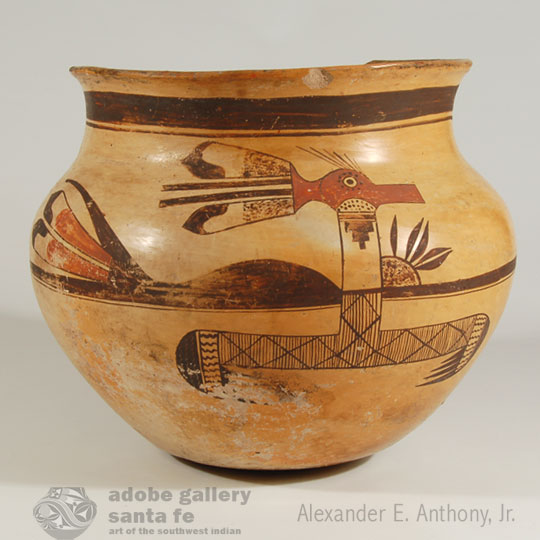 This jar shape is not what one normally associates with Hopi potters, yet there are jars in the Museum of Northern Arizona with similar shapes, both historic and contemporary. We just are not familiar with seeing such on a regular basis. It might be classified as a small storage jar. It has a rounded base like those of storage jars.
The bird flying on the neck of the jar has a rather squared off beak, which is not what we associate with Hopi birds but "There are a few odd bird heads on Nampeyo jars at the Museum of Northern Arizona." Personal note from Dr. Ed Wade. The polka-dot element below the bird's eye and the dark brown stepped cloud are most unusual elements on a bird's head.
Would like to purchase or read more about this Nampeyo pottery?