San Ildefonso Pueblo Black Design on Red and White Bowl - C4068X
Category:
Pottery
| Posted by |
Fri, Aug 10th 2018, 1:06pm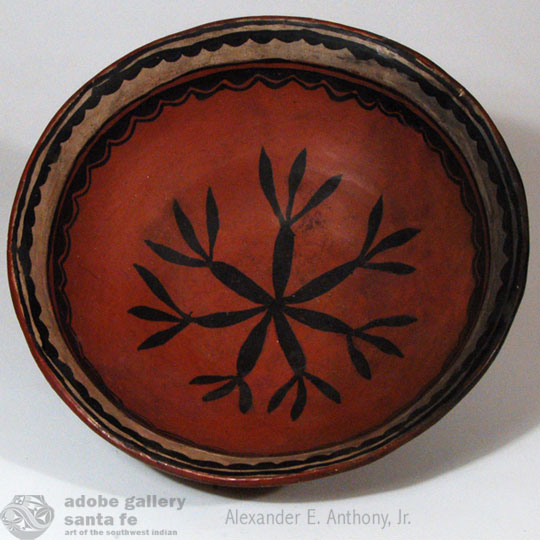 This is a most unusual bowl from San Ildefonso Pueblo. The interior was slipped in red, the interior rim was slipped in white, and the design was executed in black. This combination of design and color was used by Maria Martinez on occasion.
There are two vessels by Maria Martinez in the Museum of New Mexico collection (18798/12 and 36005/12), one of which is signed with her name Poh've'ka. In the first one, a jar, the upper neck-the full area above the shoulder-is decorated with Black-on-red, and the lower portion- the body of the vessel-is decorated in polychrome colors on white slip. The other vessel mentioned is a terrace rim bowl, with the exterior in black on red and the interior in traditional San Ildefonso Polychrome, both vessels being dated circa 1925.
It is not our intention to state or infer that this bowl was made by Maria and painted by Julian, only that they are known for having done similar styles.

#adobegallery #SouthwestIndianPottery #SanIldefonsoPueblo #SanIldefonsoPottery #PuebloPottery #SouthwestIndianArt #FinePuebloPottery #HistoricPottery #IndianMarket #sfim2018 #NativeAmericanArts