Zuni Pueblo Bola Tie of an Antelope or Deer Image - C4109F
Category:
Jewelry
| Posted by |
Tue, Aug 7th 2018, 2:14pm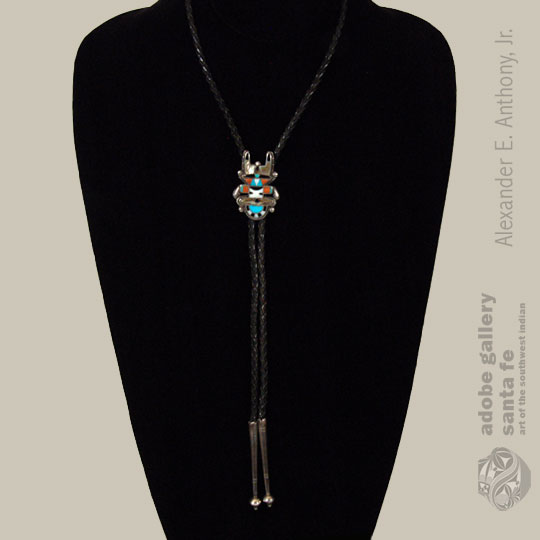 It is well established that Zuni Pueblo lapidary artisans are amazingly creative in making pictotrial jewelry in mosaic style. This bola features the head of an antelope or possibly a deer. The antlers were made from mother of pearl and tipped with jet. The animal's face was made from white shell and jet, ears of spondylus shell, and crown of white shell, turquoise and spondylus shell in triangular cuts. The mother of pearl neck ruff is in raised form, a trait started years ago by Zuni jeweler Leo Poblano. This is an incredible image that was beautifully and expertly created in the 1940s.

#adobegallery #SouthwestIndianJewelry #NativeAmericanJewelry #zuniJewelry #ZuniPueblo #Silver #Turquoise #sfim2018 #IndianMarket2018