"The Pueblo Potters" published in Applied Photography [SOLD]
---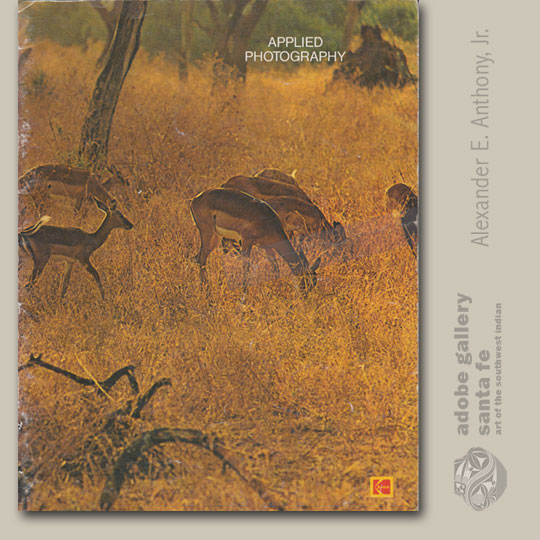 + Add to my watchlist

Forward to Friend
"The Pueblo Potters" published in Applied Photography
Number 52, 1972
Eastman Kodak Company
Library of Adobe Gallery emboss
"The art of the American Indian has been rediscovered periodically for a hundred or more years. And with each rediscovery, the circle of appreciation has widened, so that presently it is considered a popular subject for visual media of all kinds.
"Here is a brief look at the pueblo potters of the Southwest demonstrating varied photographic presentations of both the potters and their work."
Illustrated in a two-page spread is a photograph of Cochiti potter, Felipa Trujillo among some of her unfinished storyteller figurines, and photographs of two finished ones. Felipa autographed the page with her photograph.
On the next two-page spread is a photograph of Acoma Pueblo potter, Juana Leno, sitting on the stoop of her horno while painting an unfinished jar. A jar and a three-chamber canteen, both with Tularosa designs, are presented. Juana Leno autographed her page.
The next two-page spread features Picuris Pueblo potter Virginia Duran, seated around a wall of an old adobe building. She holds two of her micaceous pots and a photograph of a beautiful golden micaceous bean pot is on the opposite page.
On the next two-page spread is devoted to Santana and Adam Martinez of San Ildefonso Pueblo. Santana is shown coiling a jar and stone polishing a small jar. Adam looks on while sitting among a group of their pottery. On the opposite page, Santana is shown building up the coils, painting the design, and stone-polishing a jar.
The next page shows a smiling Margaret Gutierrez of Santa Clara Pueblo among a large group of her unfinished pottery. A photograph of two finished animals is included.
On the next page is Margaret Tafoya of Santa Clara Pueblo, sitting on the hearth of her fireplace with three large unfinished pottery jars and bowls next to her, and one in her hands that she is polishing. A large polished red bear paw jar is shown.
The following two-page spread is devoted to Zuni potter Josephine Nahohai. She is seated near two horno and is scraping a small jar with a gourd. Next to her is a finished jar and above her and, on the following spread, are three of her owl figurines.