ART OF CLAY Timeless Pottery of the Southwest [SOLD]
---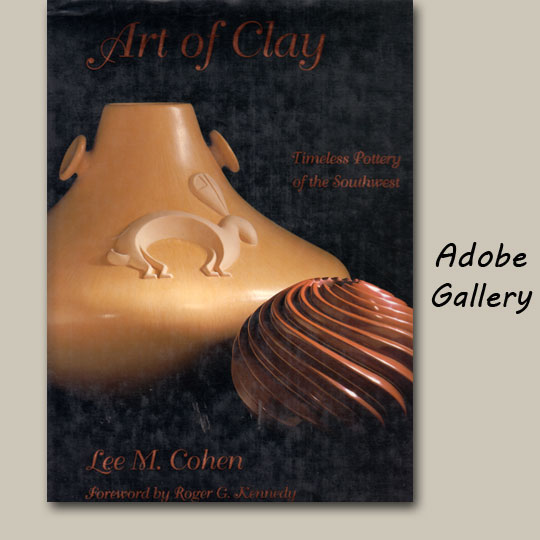 + Add to my watchlist

Forward to Friend
Lee M. Cohen
Subject: Native American Pottery
Item # 0-940666-19-7
Date Published: Hardback with slip cover, first edition 1993
Size: 139 pages, beautifully illustrated in color

SOLD
ART OF CLAY Timeless Pottery of the Southwest
by Lee M. Cohen (former owner of former Gallery 10)
Clear Light Publishers, Santa Fe
Hardback with slip cover, first edition 1993. 139 pages, beautifully illustrated in color
---
From the Jacket
The magnificent ceramics shown in this book leave us in no doubt that we are seeing one-of-a-kind art not merely pretty ethnic artifacts. Major southwestern artists whose works are avidly sought by museums and knowledgeable collectors the world over are represented with full-color photographs and informative commentary. Most of the works shown are reproduced here for the first time in book form.
Every significant change that has occurred in two thousand years of southwestern American ceramic art has been led by a relatively few gifted individuals. Names are lost in history until early in this century, after which we are able to recognize famed potters like Nampeyo, Maria and Julian Martinez, Margaret Tafoya, and others who, in their time, caused major deflections in the mainstream of ceramic art. This exquisitely beautiful book presents the remarkable individuals whose works are even now causing another great change as history repeats itself.
Lee Cohen's Introduction examines the evolution of this art form and spotlights the contributions of genius—of the rare creative spirits who have spearheaded radical change over the centuries in southwestern ceramics. He shows timeless examples of Mimbres, Sikyatki, and other prehistoric pottery whose sophistication and creative power remain remarkable by any standards.
The ninety-six beautiful full-color photographs of museum-quality works accompany a well-researched and informative text. Together they present a thrilling experience. Art of Clay provides an exciting guide which will surprise and delight both the curious and seasoned collectors alike. It helps the reader identify significant developments in this dynamic and rapidly changing art form.
Artists featured in the book are: Maria and Julian Martinez, Nampeyo, Sarafina Tafoya and Margaret Tafoya, Helen Cordero, Popovi Da, Tony Da, Grace Medicine Flower, Joseph Lonewolf, Jody Folwell, Al Qõyawayma, Dextra Quotskuyva Nampeyo, Dora Tse Pe Peña, Nathan Youngblood, Richard Zane Smith, Dorothy Torivio, Russell Sanchez, and Tammy Garcia.
Lee M. Cohen
Subject: Native American Pottery
Item # 0-940666-19-7
Date Published: Hardback with slip cover, first edition 1993
Size: 139 pages, beautifully illustrated in color

SOLD
---
Publisher:
---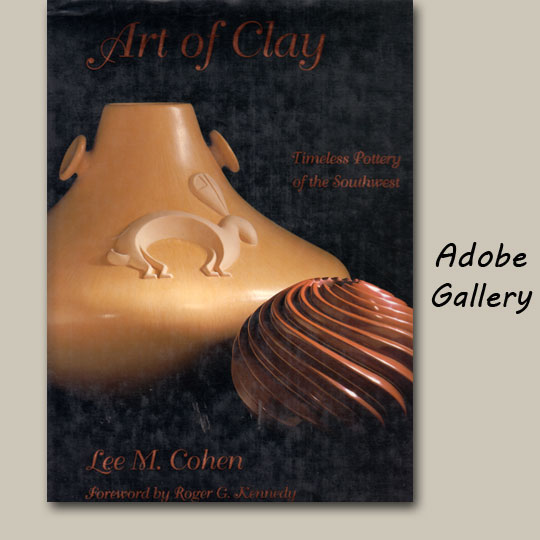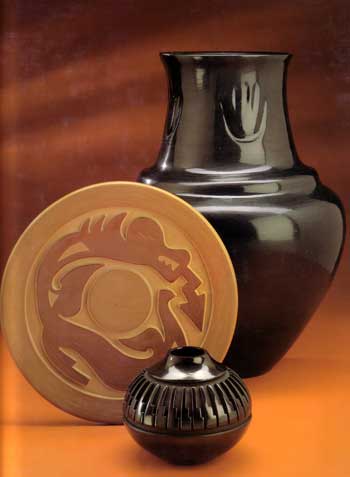 Click on image to view larger.
---