Exhibit Catalog: Historic Pottery of Zuni Pueblo
---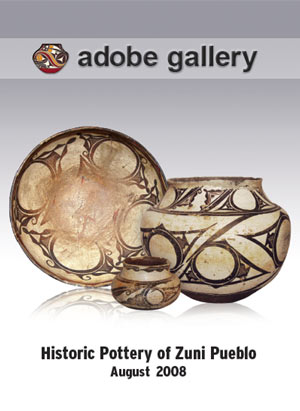 + Add to my watchlist

Forward to Friend
Alexander Anthony
Subject: Native American Pottery
Item # 0-9633710-3-7
Date Published: 2008/07/01
Size: 40 Pages
Price:

$10.00
A 40-page Catalog from Adobe Gallery's August 2008 Special Exhibit. From the Introduction:
Zuni Pueblo is the most remote pueblo in New Mexico. It is located somewhat near to Acoma and Laguna Pueblos, but quite a distance from the Rio Grande pueblos. Additional to its isolation on the western edge of the state, Zuni also speaks a language different from all the other pueblos. Its language is unique to the Zuni.
The Zuni Village named Hawikuh is what we know today as Zuni Pueblo. It was established in 1705, when the other six villages that comprised the pueblo were consolidated into the one village. Coronado had first visited the village of Hawikuh in 1540 searching for the Seven Cities of Cibola.
Early Zuni pottery is called Ashiwi Polychrome (1700-1760) and Kiapkwa Polychrome (1760-1850), but this exhibit concentrates on the latter category of Zuni Polychrome, which evolved around circa 1850.
A Zuni Polychrome jar has a concave base that permits it to be easily carried on one's head. The formation of the jar begins by pressing clay into a puki, which generally was the bottom of a previously broken jar. Baskets and small bowls were also used as puki. The damp clay used to form the base of the new jar would expand over the sides of the puki form thus making a line of demarcation at the point where the lower body began. This makes the lower body rather inconspicuous when the inflated middle body overhangs it considerably.
The middle body is generally globular in shape and the greatest diameter is above the mid-body. The top of the body curves inward to a concave flexure that defines the neck of the vessel. The upper body is almost straight or just slightly showing a concave shape and a sharp outward flare.
The underbody of Zuni vessels has been painted a very dark brown since around 1880. Before that time, the underbody was red. The underbody is separated generally at the puki line from the middle body by framing lines, sometimes single and sometimes double. If double framing lines are used, they are connected at the break point by two vertical lines.
The rim of Zuni Polychrome jars is painted the same dark brown as the underbody. This is a change from the Ashiwi Polychrome jars, which have a red rim. The body design is generally executed in dark brown and red on a cream slip. Zuni Polychrome jars differ from the earlier styles in that the greatest width of the vessel is somewhat above mid-body. The design motifs are generally executed with elegance and precision.
Alexander Anthony
Subject: Native American Pottery
Item # 0-9633710-3-7
Date Published: 2008/07/01
Size: 40 Pages
Price:

$10.00
---
Publisher:
221 Canyon Road
Santa Fe, NM
505-955-0550
505-955-1580
info@adobegallery.com
www.adobegallery.com
---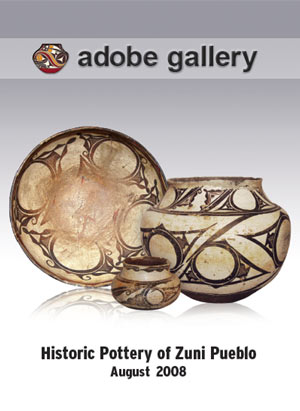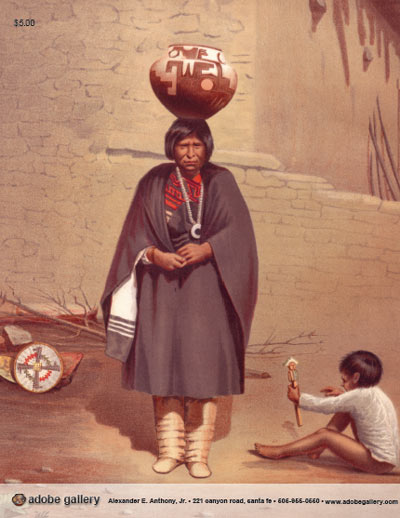 Click on image to view larger.
---